Peugeot 308 GTi by PS production halted by incoming Euro 6.2 emission regs
Peugeot 308 GTi by PS production has been stopped, but will resume later in the year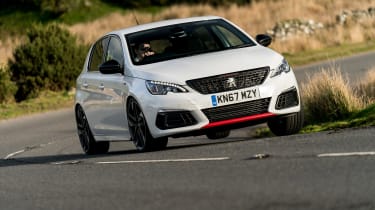 Peugeot is to temporarily halt production of the 308 GTi by Peugeot Sport ahead of incoming Euro 6.2 emission regulations. As with many older or high-performance engines, new WLTP regulations are forcing manufacturers to take more dramatic measures in order to comply.
The French marque will approach the problem by fitting the 308 GTi by PS with a petrol particulate filter when it resumes production in October, an increasingly common move by manufacturers to reduce emissions without the need for substantial hardware change.
> Click here for our group test between the Peugeot 308 GTi by Peugeot Sport and its rivals
Peugeot is adamant that the 308's 266bhp power output won't change, although we won't know if the 1.6-litre engine's enthusiasm for revs will be quite so unaffected. Initially co-developed with BMW in the previous-generation Mini, the Peugeot's THP 1.6-litre engine was thoroughly redesigned by Peugeot Sport in order to produce its impressive power and torque figures. As a result, it's hardly surprising, due to the engine's relative age, that it has been affected by these new legislation changes.
Peugeot also confirmed that it has stopped building three-door variants of the 208 supermini, killing off the 208 GTi by Peugeot Sport in the process. We are, however, expecting a new-generation 208 to appear at the Paris motor show in October.
Although a next-generation 208 GTi by PS has not been confirmed, Peugeot has previously made mention that the GTi brand and its variants will remain crucial parts of the future Peugeot line-up. What will this mean for the next-generation hot hatch? With Peugeot back at full strength where hot hatchbacks are concerned, we can't wait to see what the it has in store, even if the new emissions regulations are becoming increasingly difficult to overcome.