Porsche 964 RS
Richard Meaden exploits a window of opportunity with the 964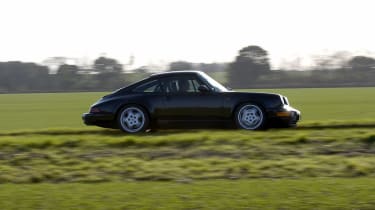 When you own a 'second' car, winter really tests your resolve. The weather's usually wet and even when it isn't the local council spoil the promise of a clear, crisp, frosty morning by spreading corrosive grit all over the road.
For once, though, the elements conspired to create a window of opportunity and I took it, going for a blast on some favourite local roads, then again a few days later on a longer trip; first to Bedford Autodrome, then on to meet some friends at Silverstone. But only after replacing the battery, which was dead as a Dodo… Fortunately, what my winter driving lacks in quantity the RS compensates for amply in quality.
Find used Porsche 964's for sale here on the Classic and Performance Car site here.
Running Costs
| | |
| --- | --- |
| Date acquired | July 2006 |
| Total mileage | 59,110 |
| Costs this month | £50 (battery) |
| Mileage this month | 100 |
| MPG this month | 23.6 |