Porsche 964 RS
It's back! Richard Meaden's Porsche 964 RS reappears after its winter hibernation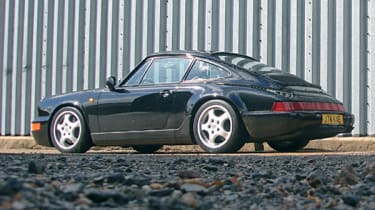 Having brought the RS out of hibernation a month or so ago, I've got a few things to get sorted. Firstly I need to find some replacement tyres, as the Dunlop SSRs are getting a bit thin. Trouble is, Dunlop has stopped making them, which is a shame as they are a great compromise, offering terrific dry grip with plenty of wet weather performance to boot. Perfect for trips to the Ring.
I also need to think about getting it serviced and MOT'd. Much like any ageing high-performance car, the 964 RS needs expert care and attention to remain in top shape. Fortunately for me, Silverstone-based Porsche specialist Andy Ferns is just 45 minutes away, and he knows J74 KAE already as he fettled it before I purchased it from Paul McLean at GT Classics.
I'm not expecting him to find anything untoward, especially as everyone you talk to who owns a 964 RS says they are bomb-proof, but fifteen years is a long time, so I'll be keeping my fingers crossed for good measure.
That brake-pad warning-sensor problem I reported last year will need fixing, though, and I'm going to have the engine undertray removed to let more cool air into the engine bay. According to Ferns it only serves to 'keep the oil drips off your driveway' anyway. I hope he's joking.
Find used Porsche 964's for sale on the Classic and Performance Car site here.
Running Costs
| | |
| --- | --- |
| Date acquired | July 2006 |
| Total mileage | 59,906 |
| Costs this month | £0 |
| Mileage this month | 188 |
| MPG this month | 24.6mpg |