How much can Öhlins Road & Track dampers improve the feel and pace of a performance car? Two Renaultsport Méganes, some challenging Welsh roads and a racetrack hold the answer…
The Challenge
Power and performance figures grab headlines, but when it comes to the very best drivers' cars – and the most informed drivers – road-holding, handling, ride quality and feel are what really count.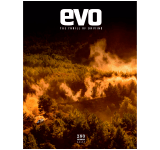 Subscribe to evo magazine
Subscribe today to have every issue of evo delivered straight to you. You'll SAVE 39% on the shop price, and get evo for its original cover price for a whole year!
Successfully balancing these critical, and often conflicting, factors is the chassis engineer's eternal challenge, but one that Swedish suspension manufacturer Öhlins believes it has met with its range of 'Road & Track' dampers.
Shaped by four decades of experience and more than 300 motorsport world titles, Öhlins' Road & Track dampers feature ideas and technology taken from that hard-won racing success. Foremost amongst this transfer of knowledge and hardware is Öhlins' innovative Dual Flow Valve or DFV. This unique feature enables its Road & Track units to maintain the same damping characteristics in compression and rebound. The benefits are consistent performance and simple, simultaneous one-click adjustment of both the compression and rebound settings.
It's these trick internals that are the secret to Road & Track's combination of uncanny compliance and supreme control, and how they offer the widest possible range of adjustability for you to fine-tune your car to excel on the bumpiest road or the smoothest racetrack.
Whether fitted as original equipment by leading high-performance brands such as Renaultsport and Polestar, offered as an official factory option, or installed as an aftermarket upgrade, Road & Track suspension brings next-level dynamics and Öhlins' legendary quality within the reach of the discerning enthusiast.
On Road
For the first element of our test we're using the fabulous roads of north Wales. From flowing stretches of smooth tarmac to tighter, rougher sections with hidden crests and wicked compressions, our route is the ultimate measure of control, compliance and driver confidence.
First up is the standard Mégane Trophy – the yellow car on these pages. As you'd expect from evo's current favourite hot hatchback, it's extremely impressive. Deep reserves of grip, plenty of front-end bite and a neutral-yet-lively balance give you the tools and the confidence to really enjoy the car's performance. Yes, its ride is unashamedly firm, but when it's in its element, compromised comfort feels like a fair trade for such livewire dynamics.
Swapping to the Öhlins-equipped car, we first drive the route with the dampers set to Renaultsport's factory road settings of five clicks on the front and ten on the rear (both from a possible 40 clicks, zero being fully stiff, 40 fully soft). The differences between this and the standard car are subtle, but tangible. There's a sense of tighter body control and precision, but despite the hard settings, initial impacts from the worst imperfections are more smoothly rounded off. It feels more positive, too: fractional improvements in response, grip and traction combining to make you feel more connected and confident. It's an impressive start.
Next, using the Road & Track's one-click bump and rebound adjustment, we soften the Öhlins-equipped Mégane to Renaultsport's recommended B-road settings and repeat the route. Immediately there's a marked improvement in ride quality, but not at the expense of that impressive precision or body control. The same pin-sharp agility and response remains, but with even greater poise and composure.
Despite the extra compliance, mid-corner compressions – which threaten to overwhelm the standard car's damping – leave the Öhlins-suspended car unfazed. And because the car is in closer harmony with the road surface, you feel more in tune with its responses, and totally immersed in the driving experience.
Take things to extremes and the differences can be felt even more clearly. Approaching one of the numerous crests to be found on these roads at the same speed in both cars, the standard Trophy is eager to take off, lands heavily and takes a moment or two to regain its composure. The Öhlins-equipped car is less keen to launch over the crest, absorbing the initial compression force as the Mégane hits the upslope and controlling the release of energy as the wheels eventually leave the ground. On landing it touches down more smoothly, swiftly soaking up the first impact and controlling the rate of rebound with equal precision, preventing a secondary bounce and allowing the car to settle more quickly.
It's a graphic demonstration of the superior body control with the Öhlins Road & Track suspension, and underlines the lasting impression from our road route, namely that compliance is the key to unlocking an uncannily brilliant combination of control, ride comfort and confidence-inspiring feel on challenging and unpredictable roads.
On Track
For the second element of our test we move to Anglesey Circuit. We're using the Coastal configuration, which packs plenty of challenges into its short but highly technical 1.5-mile lap. From traction-testing hairpins and fast corners that demand grip and confidence, to rapid direction changes and heavy braking zones, it's an evo favourite for good reason.
In addition to comparing the all-important subjective feel of each car here, we're adding objectivity by driving against the clock. It's worth mentioning that, as on the road, each car is fitted with the same type of OE Bridgestone tyre (not the optional Michelin Pilot Cup 2s, which are only available as an option with the Öhlins suspension) and carrying the same fuel load, thereby ensuring that, suspension apart, they are as close to identical as possible. Of course, as we're now on a racetrack we can push both cars to their absolute limits with stability control switched off.
Once again we begin with the standard car, and once again it more than upholds Renaultsport's reputation: the Mégane's trademark rapid-but-measured steering response, strong initial turn-in grip and rear-end stability being the stand-out qualities.
Only when pushing for a lap time do weaknesses become apparent – that encouraging bite at turn-in fading to understeer mid-corner as you chase the throttle through the quicker corners, a wriggle of momentary rear-end instability in the heaviest braking zones (most notably on the uphill 100mph-plus approach to Rocket) and a tendency to scrabble for traction exiting the hairpins. Nevertheless, it's a mightily impressive performance from an everyday-useable road car.
We first try the Öhlins-suspended car running Renaultsport's recommended damper settings for a quick, dry track (four clicks front, nine rear). The improvement over the standard car is immediate, as from the moment you turn into the first corner you can feel there's more grip to lean on, and it lasts through the apex and on to the exit. Coupled to stronger traction, superior stability into the most critical braking area and an ability to ride the kerbs without deflecting the car from your chosen line, it feels like a car you can place with pin-point accuracy, even when driving at the limit.
The way it copes with kerbs is especially impressive, and it's largely thanks to that Dual Flow Valve technology. Just as on the road, during moments of very sharp suspension loading – such as those from a ridge, pothole or a racetrack's kerb – the DFV acts like a blow-off valve, allowing oil within the damper to bypass the compression and rebound ports. This rapid but controlled response ensures the wheel and tyre remain in contact with the ground, maintaining grip and traction when the standard car begins to run out of ideas. It's supremely effective and very, very clever.
First run completed, we switch to a more aggressive setup – two clicks on the front, five on the rear – to exploit Anglesey's smooth surface. The differences in feel are small, but there's definitely a sense that the Mégane is squeezing a fraction more from the tyres. You can place it with even greater precision and confidence, get on the power even earlier and really chase the cleanest and most efficient lines. It also feels more rewarding and, crucially for track work, even more consistent, lap after lap.
So the Mégane fitted with Öhlins Road & Track dampers feels significantly better, but does the stopwatch back that subjective improvement with a quicker lap time? Of course it does. The first of our two setups finds 0.3sec over the standard car, the second, more aggressive setup increasing that advantage to 0.4sec – a best lap of 1:20.75 convincingly eclipsing the standard car's 1:21.15.
Yes, away from the racetrack that's but a few blinks of the eye, but in motorsport terms a performance advantage of four-tenths of a second around a 1.5-mile lap is a lifetime, especially in identical cars. That the quicker car also manages to consistently sustain its superior pace and be more enjoyable while it does so seals the deal for Öhlins Road & Track.
The Verdict
Delivering more pace and precision on track, bringing greater control, compliance and enjoyment on the road, our tests have proved the Öhlins Effect is real. Performance gains you can measure, dynamic improvements you can feel. Öhlins Road & Track will release the potential in your car, wherever you drive.