Renault Megane Trophy takes Nurburgring record
The new RenaultSport Megane Trophy 265 has broken the record for a front-wheel drive car at the Nurburgring Nordschleife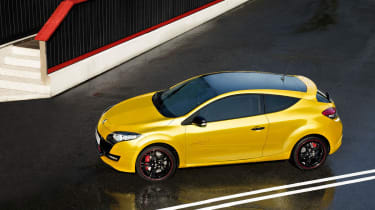 Renault has taken the lap record for a front-wheel drive car at the Nurburgring Nordschleife with the new RenaultSport Megane 265 Trophy – which has just posted a time of 8 minutes 7.97 seconds.
That's nine seconds quicker than the time set by the previous record holder – the last-generation RenaultSport Megane R26.R – back in 2008. But while the R26.R was a stripped-out special with perspex windows and no rear seats, the new 265 Trophy is just a slightly modified version of the standard Megane 250, with an extra 15bhp and wearing Bridgestone Potenza RE05 tyres.
Renault test driver Laurent Hurgon set the time during only the car's second lap of the Nordschleife – and our very own John Barker was there to see it happen.
'When he went out Laurent was driving on some nicely worn tyres,' said John, 'he went out first thing and conditions were ideal for a turbocharged engine, about 11 degrees and the track cold enough to help road tyres. He said it was still damp under the trees so he went back out for another go and set the time on his second lap.'
John will be driving the car around the track later today – we'll bring you the full story later!