Audi R8 V10 Plus v Nissan GT-R Nismo - evo Track Review video
We pitch two very different all-wheel drive supercars against each other in our latest evo Track review video
The question was simple – what would come out on top, a mid-engined German supercar, or track-focused Japanese icon? In order to find out took them to Rockingham race circuit where we could properly stretch their legs and push them to the limit.
Despite their differences in layout and appearance, the Audi R8 V10 Plus and Nissan GT-R Nismo have startlingly similar power outputs, and while the Nismo has a chunk more torque, its bigger, heavier body negates most of this advantage.
> Click here for our full review of the Nissan GT-R Nismo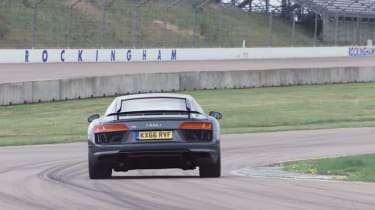 Yet the Audi does not hold all the cards in this little comparison, as the R8 may look to have the upper hand with its more focused layout, the Nissan runs more aggressive tyres and suspension. We dithered for hours about who would come out on top, fortunately there was only one way to find out.
This is only the first of a series of new evo films produced in conjunction with games producer Hutch and its new IOS game Top Drives. Designed to test the knowledge of even the most accomplished anoraks, this new car game uses evo data and images to put the world's greatest performance cars head-to-head.
Stay tuned on evo.co.uk and our Youtube channel for out next video track battle. 
Click here to download Top Drives