Huge power plus front-wheel drive equals shredded rubber, a total torque-steer experience and a large question mark over the wisdom of the perpetrator. Or so you'd think. But you might remember an evo story a little over a year ago concerning an Alfa 147 GTA tuned by Autodelta, the West London tuning firm. That 147 had a 3.7-litre, 328bhp version of the 24-valve V6, and astonishingly it got all that power on the road without histrionics. A very effective limited-slip diff helped, along with suspension so tied-down that the ride was risibly bad. But it made the point. Big power and front-wheel drive could co-exist in a road car. So here's Autodelta's latest variation on physics-bending, this time an Alfa GT. Autodelta's Jano Djelalian has supercharged the regular 3.2-litre V6 to create what he calls the Alfa GT Super. Peak power rises from the standard 240bhp to 320, torque from 221lb ft to 278 albeit still at a high crankshaft speed (4700rpm). That said, there's over 180lb ft at just 1000rpm and the supercharged engine matches the standard unit's peak torque figure by 3000rpm. A Danish Rotrex centrifugal supercharger, blowing at a modest 0.35bar, is the core of the conversion. You can see its intercooler lurking behind the mesh grilles of Autodelta's more menacing-looking front valance, but the only obvious underbonnet changes are the intercooler pipe and a polished aluminium oil separator for the reconfigured crankcase breathing system. The supercharger itself lurks just ahead of the right front wheel and has its own oil supply and cooler. This is not a cheap conversion at £4994 but it's easily reversible should you want to sell your GT. It even retains the original ECU, remapped to suit (also reversible). Our test car had a few more Autodelta extras, such as a limited-slip diff at £1804, expensive heat-treated, ventilated and cross-drilled front discs (£646 including pads), and Intrax coil-over springs and dampers with adjustable rebound damping and ride height as used by Ascari and Ultima (£1426).
Add a new glassfibre front bumper moulding whose lower air intakes form an F1-style inverted vee in the middle (£732), a rear bumper with bladed diffuser (£700), and a transverse rear silencer with twin tailpipes (£609 and essential with that rear bumper). Now factor-in the cost of a new GT 3.2 V6 (list price £27,300) and you'll reach an eye-watering £38,211. That's nearly M3 money. Can that be credible? Well, the GT Super sounds delicious, which is a good start: deep, with a typical V6 graininess. The initial drive-by-wire throttle response is very keen, triggering a mighty accelerative lunge on the upshift into second gear, then it softens even though a hefty push of boost has arrived to propel you onward. Autodelta optimistically claims 0-60mph in 5.3sec against the standard car's 7.2, with a 165mph top speed capped by the rev-limiter, but because the power delivery is consistent rather than bombastic the GT Super doesn't feel as fast as it probably is. It does, however, feel it could pull a longer sixth gear, which illustrates the abundance of torque. Autodelta can oblige for another £840. Now, corners. Smooth ones, fine; the steering, in typical Alfa fashion, is a bit soft around the centre then sharpens and speeds rapidly as you latch into a bend and feel plenty of understeer-resisting grip. The slippy diff helps pull the nose round, but it doesn't feel unnatural, just nailed. But bumps and undulations taken under even moderate power, be they on straights or curves, throw up a problem. It follows cambers and it bump-steers, even though suspension geometry and wheel size are standard. And does it torque-steer? Does it ever. Slightly less solid suspension than that GTA's (but still way too thumpy and turbulent), and a less aggressive diff setting, together make the GT tug and pull where the GTA did not. But here's an interesting thing. Switch off the traction control and it becomes less unruly on a spirited getaway, because the LSD and the TC aren't fighting each other. You just leave continuous black lines instead. It seems, then, that big power, tidy handling and a decent ride can't all be had in one front-wheel drive package. This engine conversion is very effective, if less spectacular than Autodelta's nat-asp 3.7, and there's much fun to be had in the handsome GT Super, but it turns to pain on a typically lumpy backroad. That's one reason you'd have an M3 instead. No doubt you can think of others.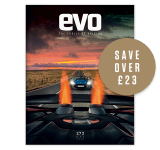 Subscribe to evo magazine
Subscribe today to have every issue of evo delivered straight to you. You'll SAVE 39% on the shop price, and get evo for its original cover price for a whole year!
Specifications
| | |
| --- | --- |
| Engine | V6, 3179cc, 24v, supercharged |
| Max power | 320bhp @ 6300rpm |
| Max torque | 278lb ft @ 4700rpm |
| 0-60 | 5.3sec (claimed) |
| Top speed | 165mph (claimed) |
| On sale | Now |