Mercedes Benz CLC
C-Class coupe returns, rebodied and renamed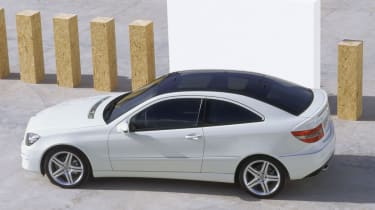 CLC. That's a Mercedes letter combination we haven't seen before. It's a coupe, but a small one. And it can't be CLK because there's one already.
The car is familiar, though. It's the old C-class Sports Coupé, M-B's one-time Golf GTI rival, in a new disguise to match the latest C-class, even if it lacks that car's new underpinnings. Only doors and roof remain of panels past – there's now a bluffer nose and a squarer tail – while underneath we find revised suspension and steering bushings for a crisper drive.
The engines are current-spec too, right up to the CLC350's hefty 268bhp V6, Mercedes dismissing the GTI-rival notion almost as if it never existed. Matched to a six-speed manual, it makes an unexpectedly engaging driving machine, though unfortunately the UK gets the auto only. OK, so try the CLC230, also a V6 (with 2.5 litres and 201bhp) and lively enough if less smooth than a straight-six BMW.
Better-quality plastics and bolder colour schemes liven up the cabin, but you shouldn't have to sit so high in a coupé. This is no hot hatch, but that's not the idea. Rather it's meant to draw buyers into the brand and turn a hefty profit. The accountants will love it.
Specifications
| | |
| --- | --- |
| Engine | V6, 2496cc |
| Max power | 201bhp @ 6100rpm |
| Max torque | 181lb ft @ 2900-5500rpm |
| 0-60 | 8.4sec (claimed) |
| Top speed | 149mph (claimed) |
| On sale | June 2008 |