Rimac announces new UK-based R&D engineering hub
Rimac's making good use of its recent £60m investment from Porsche with new research and development hub in Warwickshire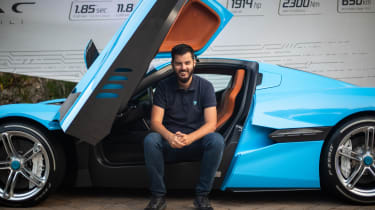 Rimac has announced it will open a new UK-based research and development hub in Warwickshire, with a roster of 30 full-time UK-based staff helping bring Rimac's groundbreaking electric supercars to market. This announcement comes after news of a second round investment from Porsche, raising its stake in Croatian EV innovator Rimac from 15.5 to 24 per cent through a £60m cash injection.
With Porsche's plans to expand its EV range beyond the Taycan very much in motion, the increased collaboration between Porsche and Rimac will also help bolster the German firm's electric car development programme, while continuing to drive development forward of future EV applied tech. 
The founder and CEO of Rimac Automobili, Mate Rimac, said: 'Porsche has been a big supporter of our company since 2018, and it has always been a privilege to have one of the world's most iconic sports car brands be a part of Rimac. We're proud to work together on new exciting and electrified products and of the fact that Porsche's trust in Rimac resulted in several rounds of investment, making Porsche an important shareholder of the company.'
> 1888bhp Rimac C_Two to enter production later this year
Founded in 2009, Rimac has grown exponentially in the last decade into a company supporting 1000 staff who specialise in high-performance battery and electric motor development. It's been over a year since Porsche announced its 15.5 per cent stake in the Croatian company and now the partnership has grown again.
Now considered a top-tier industry supplier, Rimac has connections throughout the automotive world in the development of high performance components and technology for electric cars. It also still has its own C Two electric hypercar in development ahead of the first customer deliveries later this year.
'It was one of the most important milestones in our history to win Porsche as a partner. The fact that Porsche is now increasing its stake is the best confirmation of our cooperation and the basis for an even closer relationship,' said Mate Rimac.
'We are just at the beginning of our partnership – and yet our high expectations have already been met. We have many ideas that we want to action together in the future. The key is to create a win-win situation for both partners and to add value to our end customers by developing exciting electrified models.'