Video: Harry rides in 2-seat F1 car
What's it like to ride in a two seater Formula 1 car? Harry Metcalfe finds out at Abu Dhabi's Yas Marina circuit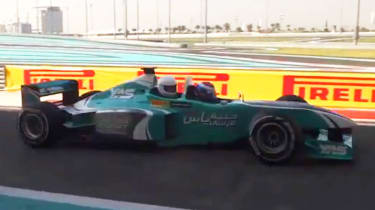 With the 2012 Formula One season about to kick off in Australia, have you ever wondered what a modern day F1 car really feels like from inside the cockpit?
Well, now you can find out for yourself. The incredible Yas Marina circuit in Abu Dhabi is offering passenger laps fabulous sounding ex-Minardi 700bhp, V10 two-seater F1 cars. The cost is approximately £2000 and further details of how to book a ride can be found here at the official website.
I struck it lucky during the launch of Pirelli's new 2012 F1 tyre a few weeks ago and got to experience the two-seater F1 car for myself with 2012 Caterham F1 driver, Vitaly Petrov, doing the driving honours up front. To give you a taste of what it's like, here's Harry Metcalfe's video diary.