The new Skoda Scala is playing it bold, taking on the Golf in terms of space and tech, but undercutting it in terms of price. The Scala may be a replacement for the half-baked Rapid, but signifies a confident move in challenging the establishment, even if that establishment has donated most of its parts. It also might usher in a vRS model, with possible plug-in hybrid tech for the first time, itself representing a new, more mature Skoda.
Skoda's strategy has always been clear. Take good, honest Volkswagen components, add size, and remove cost. It's been a successful one, too, making Skoda one of very few mainstream manufacturers to buck the trend and keep expanding in the tumultuous European market. So after steady, incremental, but strong growth, we come to a rather important new model that not only exemplifies those core attributes, but forms the base of the marque's next generation.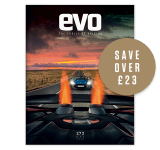 Subscribe to evo magazine
Subscribe today to have every issue of evo delivered straight to you. You'll SAVE 39% on the shop price, and get evo for its original cover price for a whole year!
> The best hot hatchbacks on sale now
The Scala may be less expensive than a Golf, but it's now beyond a £20k price point, even in moderate specifications, and the building blocks underneath are hardly ground-breaking Volkswagen Group tech. So now priced against family-sized hatchbacks, the Scala has to appeal, and not just "do", to justify that price tag.
Engine, transmission and 0-60 time
The available powertrains are, predictably, borrowed from both the Golf and Polo, with two 1-litre three-cylinder petrols with 94bhp and 114bhp, and topped for the moment by a 148bhp 1.5-litre four-cylinder "evo" unit. All engines are turbocharged and Euro 6 compliant, and transmission options are split between a six-speed manual or seven-speed DSG, depending on the engine. A sole 1.6-litre diesel is also on offer, but Skoda suggests, as we would, this might not be the powertrain to go for.
For any real performance, you'll have to wait for the much-ruminated, but as yet unconfirmed vRS model, something we've already had a good look at with the Vision RS concept that foreshowed the Scala at last year's Paris motor show. For now, it's the 1.5-litre turbo petrol that is most potent, with a laid back, refined, if incorrigibly dull combination of attributes that is especially prevalent when saddled with the relatively well behaved, if slightly sullen DSG transmission.
Instead it's the thrummy three-pots that make more sense, not feeling appreciably slower, but more charismatic and efficient. It's best when paired with Skoda's standard issue VAG six-speed, with a slick effortless shift and decent, if overly-light pedal weighting.
Technical highlights
Despite the Golf-aping dimensions (it's 10mm longer, in fact), the Scala is instead more closely related to the smaller Polo, sharing the simplified MQB-A0 platform. To some this may sound like little more than a collection of random letters and numbers, but it tells us a lot about what underpins the Scala, and where any potential Scala vRS models might end up in the future.
As a result, it's not surprising to find MacPherson front struts and a torsion beam rear suspension system fitted. The steering is an electric-mechanical system, as per usual, while other technical highlights include the optional adaptive dampers, selectable driver modes, standard LED headlights and a new 9.2-inch glass-fronted infotainment system. All these features might not seem remarkable, but they are impressive inclusions considering the Scala's size and price-point.
What's it like to drive?
It won't come as a shock, but if you've driven pretty much any other MQB-based hatchback over the last few years, you'll have a pretty good idea of how the Scala drives. In typical form, there is a general polish to all of the controls, and on the crystalline road surface of the Croatian launch venue the Scala rode with a pleasing lack of harshness.
Concentrate really hard, though, and you'll feel where Skoda's 'simply clever' cost cutting comes in, as the steering turns in with a slight lack of crispness due to the lower-spec rubber, the transmission cracks up and down the box with slightly less finesse and clarity, and the dampers pogo ever so slightly, lacking the proficient deftness of a Golf or Polo.
That said, wind it up and it's clear the chassis is capable of so much more. Despite sharing its underlying platform with the Polo, there is something about both the suspension tune, which is softer, and the extended length within the wheelbase that makes the Scala feel more exploitable than an equivalent Polo, happily leaning onto its outside tyre as the body and steering load up, with a hint more rotation from the rear. This is unlikely to be considered consumer advice for the average Scala buyer, granted, but it bodes well for a chassis that is crying out for more grunt, possibly even in torque-tastic hybrid form.
The interior is a real step up though, with a new design language that you'll see more of in the future. It's night and day ahead of the smaller Fabia, not to mention the Polo, and even compares well with models traditionally seen from the class above like the Focus. The infotainment is quick-witted, simple and clear, while everything else is exactly where you left it, which generally means it's in the right place.
Walking into a showroom, the Scala will look like good value. The showroom glamour of the new exterior styling, and the impressive interior will no doubt get enough people interested. The drive won't turn any of those away on the test drive, but it's unlikely to win any on-the-fence buyers either.
Prices and rivals
Prices start at £16,595 in the UK for entry-level S models, but most will plump for the well-equipped SE and SE-L models, as they often represent a tiny addition in a monthly payment. SE models then start at £18,850, with current top-spec SE-L priced at £20,380.
The smaller Volkswagen Polo in an equivalent SEL spec will set you back £18,700 with an identical engine, representing a £150 drop, but then also a reduction in size and standard kit. An equivalent Golf is, as one might imagine, a chunky £21,705, and still doesn't quite match the Scala for equipment.
A mid-level Focus Zetec is also a tempting alternative at just under £20,155 for a slightly more potent 124bhp version, and mostly matches the Skoda for equipment and space. The Focus is the more competent handler in the bends though.
So it comes down to the usual hatchback conundrum. Want the best, buy a Golf. Want the nicest to drive, that's the Focus, and a Kia Ceed is probably somewhere between the two. Some might find it sits in a no-man's land between full-sized hatchback and city runaround, but to many, this might well represent an attractive middle ground. But a decent vRS halo model, with more power, shaper looks and capable chassis at sub-Golf GTI price point – now that will get us talking.