Smart Fortwo Brabus
Our Smart comes face to face with a yak, and survives, but struggles to be seen on motorways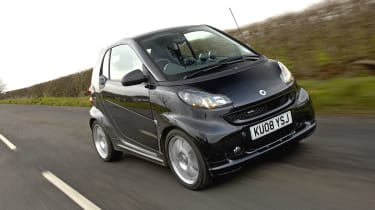 I've put quite a few miles on the Smart this month – hardly surprising given that it has completed a passage through Asia. No, not that Asia, but the safari section at Whipsnade Wildlife Park. Coming face-to-face with a yak that was considerably bigger and hairier than the little Brabus was an experience I won't forget anytime soon, I can tell you…
When it's not out having fun, the Fortwo continues to impress with its practical side. My mother loves it because she can get in and out of it easily when I take her shopping, while parking in a busy town environment is a dream – you can fit into so many spaces that regular-sized cars can't.
Pity that the Smart's diminutive dimensions seem to make it invisible on the motorway. Maybe other drivers don't expect such a small car to be whizzing along as rapidly as the Brabus can, or maybe they're just not very observant. Whatever, it means you always have to drive defensively, particularly when you're alongside a juggernaut.
All that said, I'll still miss the Smart when it goes back next month.
Running Costs
| | |
| --- | --- |
| Date acquired | March 2008 |
| Total mileage | 8839 |
| Costs this month | £0 |
| Mileage this month | 627 |
| MPG this month | 34.7 |