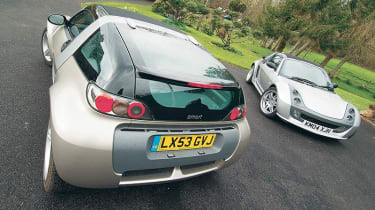 By the end of this year the Smart Roadster will be dead, a victim of DaimlerChrysler's hard-nosed plan to make its baby-car brand earn some profit for a change. Sad news for anyone who loves lightweight sports cars, and that includes a bloke called Gordon Murray.
The man who designed the McLaren F1 has long been a Smart fan, starting with a Brabus-tweaked City-Coupe followed by another, equally massaged version of same, in a vibrant Lamborghini green. Now, having hankered after a Frogeye Sprite in the 1960s and recognising some of that car's spirit in a modern package, he's moved on to a Roadster.
All of which is strange, because Smarts have turbos and Murray has a well-documented disdain for such things on road engines. 'Actually, if I had more time I'd like to get a Roadster, lighten it and maybe take the turbo off. The Smart wouldn't need a turbo if it was lighter,' he says. 'I'd take out the cant rails [the bits above the doors that form the runners for the canvas roof], weld in some metal, give it less complex seats. If you were doing this car again you could easily make it 100 kilos lighter.' And PAS in a relatively light car with a rearward weight bias, that's another Murray pet hate isn't it? 'Yeah, I tried to disconnect the power steering.'
So you might imagine Gordon Murray isn't much keen on his Roadster as it stands. You imagine wrong, because he remains a massive fan of the car, right down to the often-slated gearbox. 'You get tuned in to the challenge of driving around the foibles,' he says. 'Yeah, maybe you need proximity sensors on the paddles. But I can forgive anything almost anything if it's rear-wheel drive, small and light. It's a really practical everyday car.'
And what does a Coupe-driving engineering genius make of evo's Brabus roadster? Murray has driven one before, but takes my car out for a quick blat and returns to download his thoughts: 'The primary ride, the body control, is better. But the secondary ride is worse. I think I'd find that tiring. Overall the balance is pretty much the same, although this understeers more. You really only feel the extra oomph when you're on full throttle; in average daily driving there seems to be no difference. I think it would be worth having if you'd bought the car to drive it like that all the time.'
No sale on the Brabus then. Murray reckons his standard Roadster is more suited to his daily hackabout needs. Personally, I've always liked the extra zing of the Brabus, but we agree that the Roadster, whichever Roadster, is an under-rated modern take on the lightweight sports car. We'll miss it when it's gone.
Running Costs
| | |
| --- | --- |
| Date acquired | May 2004 |
| Total mileage | 12,200 |
| Costs this month | £0 |
| Mileage this month | 578 |
| MPG this month | 43mpg |