The in-house tuning company has in recent times become an important accessory for mainstream car manufacturers. Mercedes-Benz has AMG, BMW has the M division and Subaru has STI, an in-house motorsport arm which has helped Subaru achieve 25 years of motorsport success.
One of the quirkier Japanese marques, Subaru started up Subaru Tecnica International or STI back in 1988, but since then it has been responsible for more than just WRC wins.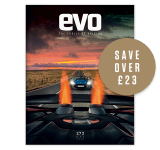 Subscribe to evo magazine
Subscribe today to have every issue of evo delivered straight to you. You'll SAVE 39% on the shop price, and get evo for its original cover price for a whole year!
Subaru Tecnica International – the beginning
STI's mission within Subaru was to develop and manage the brand's growing motorsport activities alongside the development of its road cars. Its first public outing was a world high-speed endurance record attempt in 1989. STI broke the record over an insane 18-day, 62,000-mile run completed at an average speed of 138.78mph.
Starting with a standard 1989 Legacy RS, STI upgraded the engine's internals, tweaked the turbos and installed larger fuel tanks. The resulting record-breaking machine formed the basis for STI's first production car, the Legacy RS RA.
STI's first production car
Only visually distinguishable by its pink 'hand built by STI' stickers, the Legacy RS RA looked identical to its donor car, but featured extensive mechanical upgrades such as forged pistons, strengthened connecting rods and revised intake and exhaust systems.
The chassis was also revamped, with the RA receiving uprated suspension, quicker steering and a front axle strut brace. It was this limited run production saloon that set the template for STI's WRC campaign, entering a competition specification Legacy RS the following year. 
STI's WRC campaign
Following a string of high placed finishes in its first couple of years, it took until the 1993 New Zealand Rally for STI to snatch its first win, with legend Colin McRae at the wheel. 
STI's input into Subaru's passenger car development was in full swing as in 1994 STI entered the iconic Impreza WRX, a small saloon that was designed from the outset with rally in mind. In the following years, thanks to a combination of the Impreza rally car and top drawer drivers, STI dominated the WRC, winning titles in 1995, 96 and 97.
By the early 2000s STI's winning formula had started to wane, and despite winning a driver's title in 2003 with Petter Solberg at the wheel, its WRC campaign started to become increasingly outclassed. STI continued to supply rally cars for global privateer teams beyond its 2008 exodus of the series, since then competing in the Japanese Super GT series and Nürburgring 24hr endurance races. 
The Japanese gentlemen's agreement 
The Japanese love a special edition or two, and you can explain this by referring back to a very simple unwritten law that existed within the Japanese auto industry during the 1990s and early 2000s. All Japanese manufactures self imposed a gentlemen's agreement, limiting series production models to 276bhp. While for most Japanese domestic market cars this was not a problem, when it came to performance variants, the only way for Japanese marques to get away with offering more power was to launch a limited build model.
It was not only Subaru that offered numerous limited build models, with Nissan, Mazda, Mitsubishi and Honda all partial to the same tactic. As such, it has turned the Japanese second hand performance car market into the ultimate treasure hunt, with enthusiasts devoted to finding specific versions of their favourite models. 
The Subaru Impreza WRX STI 22B
To celebrate its motorsport successes, as well as homologate a new wider bodied Impreza coupe for the following year's WRC season, STi launched the most sought after Impreza of them all, the 22B. The wide body, gold BBS alloys and larger 2.2-litre turbocharged flat-four were all unique to the 22B, adhering to the Japanese power limit of 276bhp, but in reality producing quite a bit more.
The 22B was defined by the extra performance it possessed over standard STI models. Thanks to the larger engine and a solid boost in mid-range torque, the 22B could easily out perform far more expensive and exotic rivals. Limited to a run of 424 cars, the 22B sold out instantly proving the huge popularity of the STI brand. 
STI's future
In showrooms, STI continues to develop and build its cars based on that classic combination of all-wheel drive, small saloon body and a turbocharged flat-four engine. As performance rivals have moved on however, what was once seen as a supercar killer, the current WRX STI is more of a Golf R rival, prompting a heady development push towards hybrid technology for the all new STI due later in the decade.
For the moment Subaru has responded to the threat by taking the current WRX STI further away from its Impreza base car (hence dropping the name) upgrading it for 2017 with upgraded styling, brakes and a retuned suspension setup.
The best STI special editions we never saw in the UK
2001 Subaru Impreza WRX STI S201
Perhaps more famous for its curious body styling, the S201 STI was debuted as a Japanese only model with serious performance upgrades and a more focused interior. Thanks to higher boost pressure, a larger free-flowing exhaust and a recalibrated ECU, the S201 produced over 300bhp. Chassis wise, the S201 included the addition of a front axle mounted limited slip diff and fully adjustable suspension to further sharpen its on road manners and improve front axle grip.
2003 Subaru Impreza WRX STI S203
By 2003, western markets had started receiving international-specification STI models, with a larger, torquier 2.5-litre engine, but the S203, exclusive to the Japanese market, did things a little bit differently. With a smaller, more highly strung 2-litre engine, the S203 produced 321bhp at 6400rpm and went on to a screaming 8000rpm red line. Designed for sharper response, the upgraded engine utilised a redesigned ball bearing turbo and improved cooling to improve the models performance. Build numbers were capped at 300, just like its predecessors.
2004 Subaru Forester STI
Subaru may have neglected to offer an estate version of the Impreza STI in later generations, but for the Japanese market at least, it did offer an STI version of the Forester SUV. Sharing its 2.5-litre turbocharged flat-four with the Impreza STI, the tall family wagon shared all of the saloon's other upgrades, including chunky Brembo brakes, Recaro bucket seats and revised suspension. 
2005 Subaru Legacy 2.0GT Spec B 'Tuned By STI'
Not strictly speaking a full-fat STI, the fourth Generation Legacy saloon and estate  underwent a pretty substantial upgrade using a variety of STI sourced components. Starting with a Legacy GT 2-litre Turbo, STI added its own gearbox, clutch, Bilstein suspension, Brembo brake package and a retuned ECU. The end result was more cultured Impreza than hyped up Legacy and as such has become a sort of cult hero in its own right. The 'Tuned By STI' model was available in Japanese, American and Australian markets in limited numbers.
2006 Subaru Impreza WRX STI Spec C Type RA-R 
Launched in Japan to homologate an Impreza based Group C rally car, the road legal Spec C RA-R featured the high revving 2.0 engine as seen in the S203 mentioned above, but supplemented that with thinner glass, aluminium body panels and a variety of other lightweight modifications. Launched just before an all-new hatchback only Impreza was due to go on sale (a saloon was eventually introduced), the Type RA-R is seen by some as the ultimate 'GD' chassis Impreza, and with only 300 made is sure to be a future classic.