Subaru Impreza Cosworth
Winning combination: Cosworth tunes the Subaru Impreza STI. Reborn Escort RS?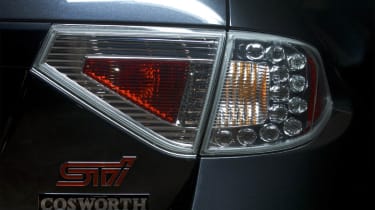 Subaru Impreza Cosworth. Got a bit of a ring to it, don't you think? We certainly like the sound of it, and we're hoping the result - due for reveal this spring - can live up to it.
If anyone can return the Impreza to form, the surely it's the team behind RS Sierras and Escorts. There's no information on how the Subaru hot hatch has been tweaked, all we've had is the picture above and the following tease:
'Two of the biggest names in automotive performance have come together to work on a special one-off project, and the result promises to be truly staggering. Subaru UK and Cosworth have enhanced the performance, handling and styling of the acclaimed Impreza STI, creating a car that will raise the bar for all-wheel-drive, high-performance motoring.'
We eagerly await the production Impreza Cossie, which we'll see soon, though not at the Geneva motor show as previously thought. Keep your eyes on evo.co.uk for the latest developments on it...
See how the Ford Escort Cosworth fares against Focus RS
We put the Impreza WRX STI against Lamborghini Gallardo
Follow evo on Twitter and Facebook for car news and views