Suzuki GSXR-1000 K5
Decisions, decisions. Do I run another full-on superbike or go for something a little less focused, a little more life-styley perhaps?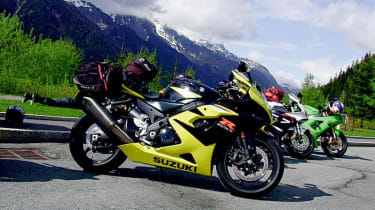 Decisions, decisions. Do I run another full-on superbike or go for something a little less focused, a little more life-styley perhaps?
Whatever I eventually decide, right now I needed something to transport me on our annual bikers' Euro-jolly. So what better than a smaller, lighter, yet more powerful version of last year's wonderful Fast Fleet Crescent Suzuki GSXR-1000, the all-new Suzuki GSXR-1000 K5. It certainly fitted the bill for the planned jaunt.
This trip was designed to take in a couple of motoring spectacles, the Mille Miglia historic rally and the Monaco GP. The plan was simple. All seven of us would meet up at Dover on Tuesday morning, and after a very civilised Langham's full English on the ferry, we'd tootle down to our pre-booked chateau near Macon. Easy. Or it would have been if four of our group hadn't missed the ferry. For once I wasn't one of them. Guy ('I've lost one and a half stone y'know'), who was one, then proceeded to run out of fuel after only 20km; Watty then did the same and Tone got a bloody puncture. Not quite the start we'd planned!
We did arrive on time, however. Well we would, wouldn't we? The slowest bike in the group can do 170mph; the fastest can top 200mph. My GSXR, just like last year's, has a speed limiter, chiming-in at an indicated 186mph on the digi speedo (on the motorway on the way to Dijon, by the way).
The trip up to Brescia for the Mille Miglia, via the Mont Blanc Tunnel and a night in Aosta, gave me the chance to really wring out the Suzuki. God it's quick, and I mean really bloody quick! A blink of an eye sees an easy 130mph, just accelerating out of a bend for instance. I soon learnt to avoid second gear and use third on tightish bends - it all gets a little bit too exciting and mono-wheeled when it digs into its peak power in second!
Pulling into the town square at Brescia (you can go anywhere on a bike in Italy), we were greeted by the sound and sight of all those wonderful classic racing cars preparing for that evening's start. Enough to make even young blokes like us feel all nostalgic...
Couldn't hang around the following morning though, as we wanted some nice Alpine roads to blast along on our way to the GP party at Monaco. We did join the autoroute near Genova, where we bumped into the last leg of the Gumball rally. It was really good fun playing with those lunatic road racers, and boy, does a chipped 911 Turbo appear slow in comparison to the GSXR when accelerating from about 80mph!
A couple of nights and many beers later it was time to head back, along the Route Napoleon of course. Baz needed to pop into Le Mans to sort his camping place out for the 24hrs en-route, so I joined him whilst the others zoomed back home.
Another fantastic trip, and certainly another fantastic bike. Trouble is, I preferred last year's model more; it was basically as fast and felt more settled under hard acceleration, and this year's K5 still has crap brake feel so it would need the Crescent upgrade. So, now the biggie trip is done and dusted, time to make that decision...
Running Costs
| | |
| --- | --- |
| Date acquired | June 2005 |
| Total mileage | 2515 |
| Costs this month | £0 |
| Mileage this month | 2340 |
| MPG this month | 36.7mpg |