Suzuki Swift Sport
The Swift's first service will hopefully sort the central locking issue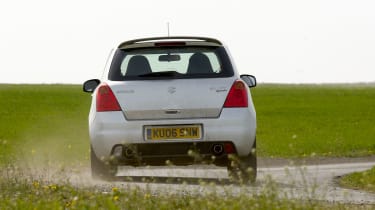 Mechanically, the Swift still feels tough, tight and precise. Electrically, it's not quite so peachy. Specifically, there's something not quite right with the central locking.
The Swift has that car-jack- defying set-up where, unless you double plip, only the driver's door unlocks. Except that as soon as you turn the ignition, the passenger-side lock clunks open, which might seem like a design feature if it did it all the time rather than – as is actually the case – only sometimes.
Things got worse the other day when, in what might pass as some sort of ECU attempt at irony, the nearside door wouldn't open at all until I got out, locked and then unlocked the car again. Hmph. So there's something for the dealer to investigate at the first service in a few weeks' time.
Running Costs
| | |
| --- | --- |
| Date acquired | March 2007 |
| Total mileage | 8090 |
| Costs this month | £0 |
| Mileage this month | 986 |
| MPG this month | 30.1 |