Suzuki Swift Sport
Our Swift's gradually winning over the population. Steering's still woolly, though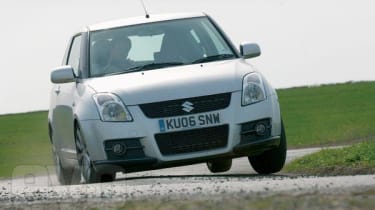 This month I spent some time driving a BMW 5-Series. Not a natural competitor to the Swift Sport, I grant you, but it did put some perspective on why the Suzuki's steering isn't quite right.
The Beemer's a hefty thing, yet when you turn the wheel there's a crisp and linear reaction, whereas the Swift feels a bit woolly until you've got more lock on. If a fat 530i can manage instant sharpness, why can't a hyperactive buzz-box?
Still, at least people seem to have a genuine affection for the Suzuki. In the BMW, all that careful steering set-up can't offset the sense that other road users think you're a queue-cutting dick.
Running Costs
| | |
| --- | --- |
| Date acquired | March 2007 |
| Total mileage | 9195 |
| Costs this month | £0 |
| Mileage this month | 1105 |
| MPG this month | 30.3 |