Suzuki Swift Sport
Clarkson described it as 'nice' and other users have commented positively. So why don't you see more Swifts around?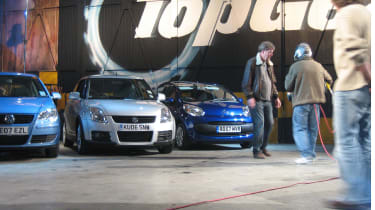 Several million people watched the recent Top Gear item in which Compo Clarkson drove a Peel microcar into a lift, and a few hundred thousand have subsequently played it on YouTube. What they might not have noticed is evo's Suzuki in the studio intro, lining up as an example of a modern-day small car. Clarkson even described it as 'nice'.
But a recycled clip on the internet is about as close as you might get to seeing a Swift Sport, since they seem to be unfairly rare in the real world.
Rare, but not non-existent, because two readers have been in touch to share their experiences with this car, and both are warmingly positive. Rob Singh borrows his girlfriend's Sport and likes it so much he's thinking of getting one to replace his BMW 320d. Blimey. And Gordon Faulkner bought one for his girlfriend but says he's happy to use it as an alternative to his Impreza 22B. Double blimey. So when it's that good, why haven't more people got one?
Running Costs
| | |
| --- | --- |
| Date acquired | March 2007 |
| Total mileage | 10,217 |
| Costs this month | £0 |
| Mileage this month | 1022 |
| MPG this month | 30.2 |