2019 Range Rover Evoque review – design
2019 Range Rover Evoque review – design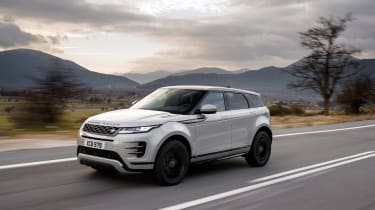 1/38
Design
Where the interior has been a complete revolution, the exterior redesign has taken a more evolutionary approach, with a tone-down of the previous car's complex bodywork for a smoother look. Re-dress the previous Evoque with the styling elements of the current Velar and you'll probably end up with something exactly like the new Evoque, which is no bad thing.
As well as sharing its aesthetic with the Velar, it's also borrowed its flush door handles, which automatically slide into the door side. It's slick, clever and although a tad plasticky, does add to the futuristic feel inherent in the Evoque's overall appearance.
If we're being picky, we'd say the lighting units are a little clumsy, and the scrolling indicators are underdeveloped compared with even something mainstream such as a Peugeot 3008. But what is certain is that the Evoque screams Range Rover, and does so with a fine balance between ostentation and sophistication. Of course, get creative with the specification and anything is possible, but like the Velar, the Evoque's general spec un-sensitivity is a delight.