2019 Range Rover Evoque review – engine and gearbox
2019 Range Rover Evoque review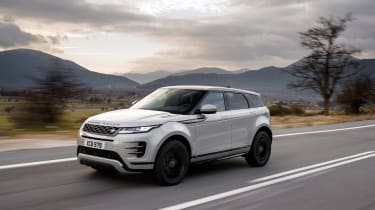 1/38
Engine and gearbox
For the moment, the Evoque makes use of two basic engines, one petrol and one diesel, with varying outputs. Both are 2-litre four-cylinder units under the 'Ingenium' tag, and all bar the entry-level D150 manual feature a 48V mild-hybrid system. As well as extending the start-stop functionality, the mild-hybrid system subtly assists the combustion engine from take off, but doesn't quite extend to engine-off coasting.
The system is pretty subtle on the road, but you can definitely feel the regenerative brakes harvesting power when lifting off the throttle. The drawback of this is that in order to maintain speed or slow more subtly, you then have to go back on the throttle where you'll often find the transmission has shuffled into a high gear (there are nine in total after all), only to then start hunting ratios in order to find the powerband. Drive with very gentle inputs and it does smoothen out, but it can feel disconcertingly remote and above all unresponsive, especially in petrol models. 
> Click here for our review of the Volvo XC40
That transmission is a new nine-speed 'box, and under most circumstances shifts smoothly, if not imperceptibly. Unfortunately, the calibration is what seems to let the 'box down, as its correspondence with the powertrain, or more specifically the mild-hybrid system, feels a tad crude and leaves the whole system feeling clunky when your inputs are less straightforward – as they usually are in an urban environment. Use the throttle more liberally and the car will hold gears with more conviction, but at this point the petrol engine's inherent lack of refinement becomes the issue, as despite the chassis' impressive isolation from outside noise, the grumbly engine becomes more apparent – liken it to a screaming baby in another room. Quiet in terms of volume, but still irritating.
Diesel models are far more suited to the Evoque's overall persona, with a more laid-back attitude to its power delivery, making better use of both the transmission and mild-hybrid system. The calibration between the two is no better, however – the gearbox still hunts for ratios like a truffle pig, making smooth progress tricky at any speed. A plug-in hybrid model combining a new turbocharged three-cylinder engine will be available closer to 2020.