2019 Range Rover Evoque review – ride and handling
2019 Range Rover Evoque review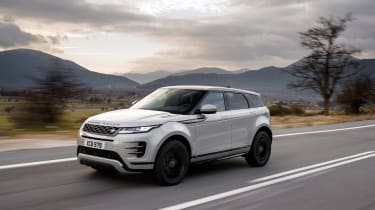 1/38
Ride and Handling
Compared to the previous model the biggest improvement with the new Evoque is the ride quality, body control and responsiveness of the chassis. No longer does it lethargically roll into corners, thud along road surfaces and generally plod around like a sulky teenager without a data connection.
Where there was previously a sense of disconnect and a one-dimensional approach to how the Evoque drove, it now drives with a consistency and a voice that brings a new character to the experience. It no longer has an iron-fisted approach to dynamics, rather the new Evoque flows along a road rather than tumbling down it and hoping for the best. The steering is quite light, and perhaps not as accurate as that found in a Q3 or X1, but it's far more responsive than before, and suits that laid-back character.
On a section of road where you would least expect a crossover to impress – a fast, flowing mountain road with high-speed corners with inconsistent cambers, dips and crests – the Evoque delivers more than our expectations were prepared for, but that might just be more of a reflection on the previous model. It remains calm, quick and a more competent SUV than before, but its real forte is making unfussed, gentle progress.
The ride quality is susceptible to a slight pogo-like movement – blame that on the short wheelbase and high centre of gravity. At lower speeds it is pleasantly free of the brittle and crashy ride that so often affects cars in this class, but where the secondary ride is well suppressed, the primary ride never quite settles, even at motorway speeds.
Off-road it's lost none of its Land Rover DNA, but you do wonder if a less complex, and perhaps lighter four-wheel-drive system could be employed considering the urban environment Land Rover knows the Evoque will inhabit.