We've been led to believe that the internal combustion engine is old-hat and that electric cars will be the future.
Not that long ago, that would have been a dire and scary proposition, but electric cars have gone through a renaissance and now some are even becoming desirable. This change of reputation is, in part, thanks to Tesla and its venerable Model S; a premium, fast, and usable electric saloon car.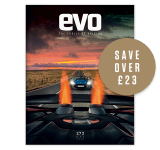 Subscribe to evo magazine
Subscribe today to have every issue of evo delivered straight to you. You'll SAVE 39% on the shop price, and get evo for its original cover price for a whole year!
It's been sold in various guises over the years with model names such as the P75 and P100D but in its latest incarnation there are effectively three models to choose from; Standard Range, Long Range and Performance. To that latter model you can add the 'Ludicrous Mode' which takes these attributes that have made the Model S so sought-after and amplified them to create a £97,000, four-wheel drive, luxurious vehicle that's also, with a 0-60mph time of 2.4sec, the fastest accelerating saloon car ever.
The Model S combines such incredible performance with an effortless driving experience making it an astoundingly effective machine for covering ground. With a maximum real world range from 200 to 300 miles (depending on which spec you choose) and an expanding network of supercharger points that allow the Model S to top up its battery in a remarkably short space of time, it's also one of the most usable electric cars on the market.
When it comes to pure thrills nothing else about the Model S can match its ability to accelerate. That's mostly because it's such a remarkable party piece, but equally the Model S isn't a car that comes alive in a corner or allows a driver to really get under its skin.
Tesla Model S in detail
> Performance and 0-60 time - All models of the Tesla Model S can safely be described as brisk. Opt for the fastest Performance model and initial accelerative performance matches that of many hypercars. Read more about the Model S's performance here
> Engine and gearbox - The Model S's electric motors drive an axle each, ensuring both grunt and traction are superb. Read more about the Model S's engine and gearbox here
> Ride and handling - Despite a hefty kerbweight, the car's centre of gravity is low helping the chassis stay composed. Read more about the Model S's ride and handling here
> MPG and running costs - Its range is good enough for the vast majority of journeys and with no fuel costs the Model S can be a cheap car to run. Read more about the Model S's running costs here
> Design - Some will say the Model S looks a little conservative, but we like that Tesla has avoided trying too hard. Read more about the Model S's design here
Prices, specs and rivals
There's less complexity about the Model S lineup than ever before. Since release the price range has risen and fallen like a jittery stock market and the cheapest Model S is now called the Standard Range with a price (for this week, at least) of £71,700. Previously there was a lower priced model with a rear mounted electric motor driving the rear wheels, but now all Model S versions have four wheel-drive with an electric motor mounted on each axle.
The Standard Range model has what Tesla describes as a 'WLTP estimate' range of 280 miles – it hasn't officially tested it yet – but if you want to travel further than this you'll need the Long Range model with its 'WLTP estimate' range of 375 miles and a price tag of £80,800. Top of the tree though is the £88,300 Performance version which sacrifices 10 miles of range for additional forward momentum and a claimed 0-60mph time of 3.0sec. If that's too slow then stump up an additional £8700 (for a total of £97,000) for the Ludicrous Mode upgrade and it'll get from rest to 60mph in a scant 2.4sec. That's the same as a Bugatti Veyron Super Sport – in a family saloon.
The array of standard kit will satisfy most and so the options list is thankfully short. Smart air suspension (once an option) is now standard, as is autopilot which 'Enables your car to steer, accelerate and brake automatically for other vehicles and pedestrians within its lane.' If you want full self-driving capability it still remains a pricey addition, at £4900. Other options are limited to exterior colour (up to £2500 for multi-coat red), carbon 21-inch wheels (a snip at £4400), interior colour – black leather is standard, white or cream cost £1450 – and that's about it. Rear facing seats are no longer available, so if you want a seven-seat Model S you'll have to look to the second hand market. Seven seats or not, though, the all-electric saloon is a highly practical car.
The Model S's most obvious rival is the Jaguar I-Pace and while it might have more a more SUV-style design than the Model S and not quite the ultimate performance it's worth considering. Its range comes close to the entry-level Tesla Model S and the Jaguar is usefully cheaper, too. Of course, the Model S will soon have a genuine rival, the Porsche Taycan, and that car's arrival could well put the cat amongst Tesla's pigeons
Despite the Tesla's hypercar-like performance, its high price makes it far from rival-free across its price spread. The competition may be fuelled more conventionally but have the benefit of more focused, sporting-inclined engineering on their side. None offer full electrified powertrains, though.
Porsche's super-limo, the Panamera Turbo S E-Hybrid can travel for 31 miles on battery power alone and has fuel consumption and CO2 emissions of 81.1mpg and just 66g/km. The likelihood of the HUD reading such figures is slim with the V8 combining with the electric motors to staggering effect – 671bhp and 627lb ft of torque.
The above Porsche is the only competition that can provide a similar blend of performance and frugality, otherwise BMW's new M5 and the Mercedes-AMG E63 certainly compete on the power front packing around 600bhp each. Free of concern for the polar ice caps the two German barges offer superior handling and agility, especially on track with the AMG emitting a typically raucous soundtrack. Interior is another area where the Tesla is subpar to its German rivals.
If you're drawn to the all-electric lifestyle but don't quite have the cash to drop on a Model S, hold tight. The Model 3 is due to come to the UK next year, acting as a cheaper, more compact alternative to the Model S.