Tesla announces new entry level Model S 70D saloon
More affordable Model S, yet still very fast, available now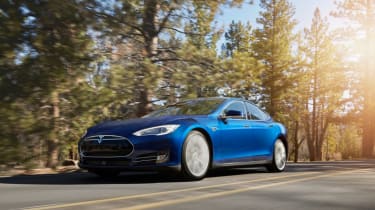 The new Tesla Model S 70D all-wheel drive saloon is pitched as the entry-level car in Tesla's model range. With the 70D range starting at £54,500, it sits right at the low end of Tesla's product line up.
The American manufacturer claims their newest model offers a 0-60mph time of 5.2 seconds and an improved range of 240 miles at 65mph. Top speed has also been increased from 120mph in the S 60 to 140mph in the S 70D, with 329bhp on offer from a 70kWh battery pack. This pack is smaller than the range-topping P85 D Performance model, which offers a Lamborghini Aventador-beating 691bhp in total from its 85kWh power plant.
Model S 70D buyers will get adaptive cruise control, parking sensors and sat nav by default, which were cost options on the older car rear-wheel drive equivalent. Tesla's Autopilot active safety system remains on the Model S and includes self-parking, automatic braking and a lane guidance system, which uses sensors and cameras to keep the car in lane while on the motorway.
Read: Tesla Model S review
Three new colours have also been added to the options list, with buyers able to choose from Obsidian Black, Ocean Blue and Warm Silver. In keeping with the car's technology, free over-the-air updates will be issued to all Model Ss by the company.
Tesla also includes access to Superchargers free of charge and dotted across Britain on major motorway routes, which can provide a range of 170 miles in as little as 30 minutes. The Supercharging points use multiple Model S chargers in tandem to transfer up to 120kW of power to the car. More of these are planned by the company, with sites expected to be added throughout continental Europe.
The government's electric car grant of £5,000 still applies to the Tesla, which may help the company steal sales from the models of more established competitors, such as the Porsche Panamera Hybrid.