Toyota Auris T180
Better than the Corolla T Sport it replaces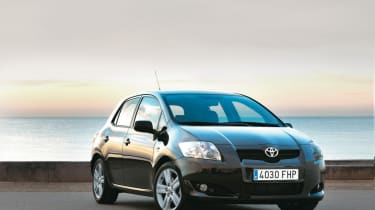 Remember the Toyota Corolla T Sport? Unfortunately we can. You had to rev it to death to wake it up, and even then it wasn't really interested. Same went for the chassis. It was a pointless car.
So how about this for a new take on a Toyota warm hatch? After four decades of world sales domination the Corolla line is finally dead, and in its European place is the French-styled, UK-built Auris. It looks like a pumped-up second-generation Yaris and has a nose so short it needs MPV-like extra windows ahead of the doors.
That's true of every Auris, but we're interested in this, the T180 version, which has a 2.2-litre, 177bhp engine. That doesn't sound especially great until you take into account the 295lb ft of torque. It is, of course, a turbodiesel.
Something else to set the T180 apart from lesser Aurises is its rear suspension. Instead of a torsion beam it gets its own full-on double-wishbone-with-extra-toe-link system, designed to keep the rear wheels pointing where they should be when all that torque is piling through the fronts on a bend.
The T180 is about as big a contrast to the T Sport as it could possibly be. It builds up a hefty head of steam from minimal revs and overtakes with insistent authority. It doesn't torque-steer, it steers accurately (thank that precise rear end). It rides well. I even like the way it looks. Not cheap, though.
Specifications
| | |
| --- | --- |
| Engine | 4-cyl, 2231cc, turbodiesel |
| Max power | 177bhp @ 3600rpm |
| Max torque | 295lb ft @ 2000-2600rpm |
| 0-60 | 8.1sec (claimed) |
| Top speed | 130mph (claimed) |
| On sale | Now |