Goodwood FoS: Hot Toyota GT 86s
A pair of Toyota GT 86s will make an appearance at the Goodwood Festival of Speed.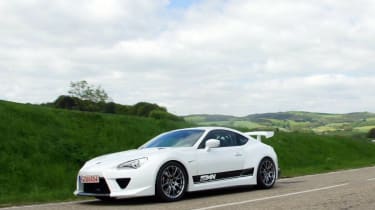 There will be a pair of modified Toyota GT 86s running at Goodwood this weekend. The first, a mildly tuned UK model, is from Toyota's official tuning house TRD, and the second is a slightly more outrageous 315bhp twincharged version from Gazoo Racing.
The TRD model will receive a 10 bhp power increase, thanks to a new sports exhaust and free-flowing air filter. Other performance upgrades include a set of much-improver brake discs and calipers, and wider 18-inch wheels and 225-profile tyres, as well as a new TRD body kit.
At the more modified end of the scale is the Gazoo Racing GT 86, which features both a supercharger and turbocharger, giving the flat-four engine in the region of 315bhp - a substantial power increase over the standard car's 200bhp.
Gazoo has developed the 315bhp GT 86 on track, at the company's home stomping ground of the Nurburgring, so it's primary function is to go extremely quickly around a race circuit - but it is still fully road-legal.
Both cars will be running up the hill throughout the weekend.