Toyota GT 86 advert banned in the UK
The uncut GT 86 advert has been banned in the UK, after the ASA ruled that the ad condoned dangerous driving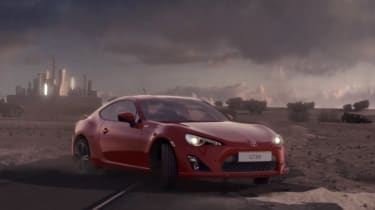 Toyota's new advertising campaign for the GT 86 has suffered a slightly unusual setback, as a version of 'The real deal' advert (below) has been banned in the UK, following two complaints.
The advert shows a CGI character driving an animated version of Toyota's new sportscar in a futuristic cityscape. After facing various obstacles the driver reaches the outskirts of the city, and smashes through into the real world.
After receiving two complaints, the Advertising Standards Authority has banned the full 1m30s uncut version of the advert in the UK, stating that 'a number of scenes depicted the character driving at speed and in a reckless manner, as shown by the reactions of bystanders as he drove past them, and the car chase scenes as the driver dodged, swerved and overtook various other drivers and obstacles'.