Toyota Supra to return
The successor to the Toyota Supra has been given the green light - and it could be powered by a Tesla's electric drivetrain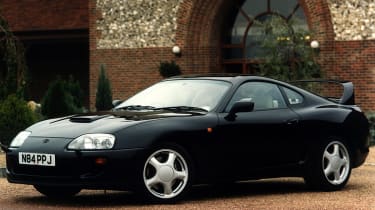 Chief Toyota designer Tetsuya Tada has confirmed that he has been asked to pen the successor to the Supra - which is in early stages of development.
Speaking to Asia One, Tada confirmed that Toyota President Akio Toyoda has approved a follow-up Supra, to be done 'as soon as possible'. Not only that, another sports car has been given the nod to fill the niche below the current Toyota GT86 – and, although details on the second car are vague, a new MR2 is likely.
The Supra's development could be in motion as soon as 2014 with Toyoda revealing that any successor 'would need five years to develop.' The new MR2 wouldn't see production before 2020.
The Supra name first appeared at the tail end of the 1970s and was based on the much more humble Celica Liftback. It was with the introduction of the Supra Turbo in 1987 that saw Toyota's GT coupe rub shoulders with much more expensive rivals. The 1992 Supra (pictured) saw the model quickly gaining worldwide fame and supercar-beating performance.
The gut-wrenching petrol power of the old-school Supra is expected to be replaced with a Tesla-developed electric powertrain, according to The Detroit Bureau. Tada's aim is to balance a green image with products that offer driving fun.
Toyota and Tesla already have an existing relationship - as seen with the new RAV4 EV. The Toyota FT-HS Concept, shown at the 2007 Detroit motor show, could be a sneak peek into the design inspiration behind the new Supra.