Toyota GT 86 convertible teased
Toyota has teased an image of a convertible version of the GT 86, called the Open Concept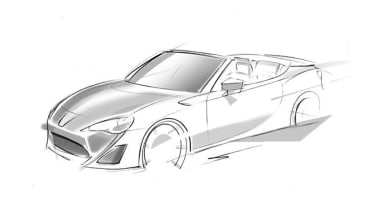 Toyota has revealed a single drawing of a convertible GT86 model, which the company says it will reveal at the Geneva motor show in March.
A convertible version of the affordable rear-drive sportscar has been talked about previously, although nothing has been confirmed. Toyota says that this concept will 'gauge public reaction to the idea', but has confirmed that it is carrying out engineering tests on a prototype version at this stage.
Also to be unveiled at the show will be the new Toyota RAV4 model, for the first time in Europe, and a production-ready Auris Touring Sport.