Next-generation Toyota GT86 and Subaru BRZ confirmed
Two of our favourite affordable performance heros are to return, and sooner than we may think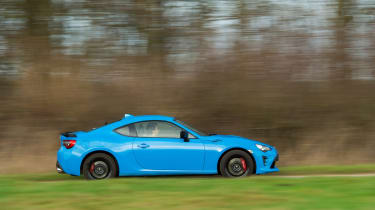 Toyota and Subaru have detailed an expansion of their joint alliance, including confirmation of a second generation GT86 and BRZ. As well as replacements for the affordable sports coupes, further collaboration will take place on hybrid, battery electric and all-wheel drive systems across both product portfolios. 
The good news is that both the Toyota GT86 and Subaru BRZ replacement models should retain their rear-wheel drive chassis, probably maintaining a similar footprint and performance output so as not to get too close to the faster and more expensive Toyota Supra. Further details remain scarce, but we also suspect the cars will continue to feature a Subaru powertrain, due to the boxer engine's inherently low centre of gravity and compact dimensions. Toyota is remaining coy on timing, except to say that it is likely to follow the current model's usual lifecycle. That would point to an arrival date somewhere in 2020 for the new car, a plausible time frame considering the original GT86's 2012 release. 
The partnership will also spread Toyota's hybrid knowhow into Subaru's range, while Subaru's iconic symmetrical all-wheel drive will be integrated into Toyota's own lineup. 
Backing up this increased technical partnership is an enlarged financial stake for each company in the other. Toyota now owns a 20 per cent share in its partner with voting rights on Subaru's board, and Subaru owns a share of equivalent financial value in Toyota with voting rights equal to 3.17 per cent. 
This new level of collaboration builds on the previous confirmation of joint battery electric vehicle development for mid-sized and large passenger vehicles, with the first joint model to take the form of a battery electric SUV to be sold as both a Toyota and Subaru. 
Toyota may be the biggest car company in the world as it stands, but under the leadership of Akio Toyoda, is quickly becoming noted for its propensity to partner up in the development of new models and technology from others in the industry. The aforementioned Toyota Supra, and its shared development with BMW is one example and there have been rumours of a technical partnership with Mazda that would see its forthcoming large rear-wheel drive chassis and straight-six engine, being used in future Lexus models.