Toyota reveals 2013 Pikes Peak Challenger
Toyota's EV P002 to defend 'Electric Vehicle' title in Colorado. New Pikes Peak category record also up for grabs.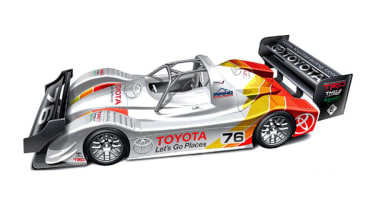 Toyota has strong hopes of claiming another Electric Vehicle title, and setting a new category record at this years Pikes Peak International Hill Climb after revealing the improved version of last year's record-setting EV P002.
The most obvious change is aerodynamic, with the introduction of a massive front aero package. Toyota claims to have gained a three-fold increase in downforce on the new car, and during the two-day testing session in Colorado ran times on both sectors of the course, which when combined, break the 10:15.380 record set on the 12.42 mile course last year by Fumio Nutahara.
Improvements have been made throughout the car such as the introduction of a new carbon ceramic braking system and development on the chassis. Engineers at Toyota Motorsport's Cologne technology centre have used feedback and data from last year to increase both motor speed and torque. As a result, the new drivetrain produces 400kW of power (536bhp in old money), and 885lb ft of torque. In comparison, the 2012 car boasted 350kW and 663lb ft.
Mitsubishi hopes to crash the party with their MiEV Evolution II entry, after finishing second behind Toyota last year. They too have put together a competitive package and have built a car with similar specs to the Toyota.
The timed runs will take place on 30 June.