evo track evening - Bedford Autodrome 16/08/2019
The penultimate trackday of the season was a sell out – but we had some weather to contend with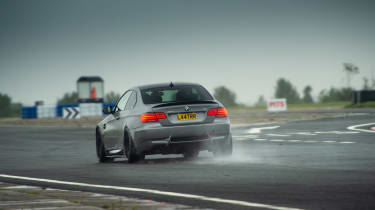 1/26
evo's second-to-last trackday for 2019 has all packed up at the Bedford Autodrome, with a sell-out crowd that took on the heavy braking zones and tricky late-apex turns of the South West Circuit.
Joining us in 2019 is our title sponsor BMW, who will not only be along with both the all-new BMW M8 Competition and X3 M Competition, but also a selection of M2s and M4s for our guests to have a go in on track with an instructor to help them get the most out of them.
> Click here for more info about our track evenings
Also joining us as technical sponsor in 2019 is Goodyear, who is here with its new Eagle F1 SuperSport range of tyres specifically designed for high-performance sports cars.
The Bedford Autodrome followed our usual programme of an open pitlane from 5pm, coming to a close just before 8pm. As usual, our sold out evening featured plenty of interesting metal from our readers, as well as some of our editorial staff and the cars you might recognise from our Fast Fleet.
If you missed out on places this year, we'll be back for a full summer season in 2020, but for the time being, keep an eye out on this page and our social channels for all the latest from today's event!