TVR sold to UK businessman
Rights to produce new cars wearing the TVR name, and parts have been sold to a British entrepreneur.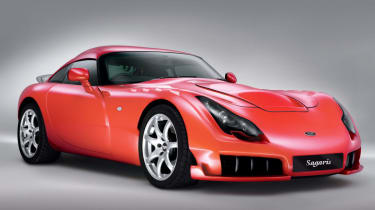 Following recent rumblings of a possible return, it has been reported that the rights to use the TVR name have been sold to a UK-based entrepreneur. The Surrey-based businessman, Mr Les Edgar, has also bought the rights to manufacture components for old TVRs, and says that there will be a full announcement shortly.
The company's former owner, Russian millionaire Nikolai Smolenksy, bought TVR from Peter Wheeler in 2004. Following the development and subsequent launch of the Sagaris, production was canned in 2006 due to spiraling costs. There were plans to re-launch the brand in 2010, using GM LS3 engines but the joint venture with German specialist firm FMS fell through. Since then, the company has offered parts support, but had no plans to restart car production.
From Griffith to Sagaris, find your dream TVR on evo cars for sale
As always, the TVR.co.uk homepage sparked the initial rumours when a message stating 'Never say never' appeared last week. Currently, the site exclaims 'Thunderous news! The distant rumble of rumour has turned to thunder and TVR is back in Britain!'