Michelin Pilot Sport Cup 2 Connect tyre revealed
Michelin's new Cup 2 tyre goes digital, with embedded sensor functionality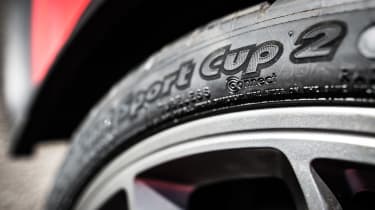 Michelin has revealed its new Pilot Sport Cup 2 Connect range of tyres, designed specifically for high-performance cars. The Michelin's Cup tyres have long been at the peak of performance tyre design, but the new Cup 2 Connect differs by introducing a new level of functionality with the ability to be fitted with Michelin's Track Connect sensors that can relay real-time tyre data.
Through these sensors, the Michelin Track Connect system is able to analyse the data being collected by the embedded sensors in the tyre itself and recommend a specific ideal pressure to improve grip levels and tread consistency before you hit the track.
The data is displayed via a connected smartphone, which during the session will display real-time data from the sensors. Using a colour-coded visualisation, the system alerts you when the tyre is outside of its optimum operating zone, as well as displaying a behavioural gauge notifying the driver about subtle under and oversteer movements based on tyre pressure and temperature.
This functionality has been designed for on-track driving, but the Cup 2 Connect tyre is also fully road legal, having been developed with Michelin's latest compound technology. The bi-compound tech across the tyre face has been designed to provide maximum grip in dry conditions when cornering, without compromising on precision and control.
Wet weather performance has also been improved – a typical compromise with trackday-focused tyres – while reinforced tyre shoulders have been designed to reduce excess wear from both rough roads and high-grip track surfaces.
The BMW M2 CS will be the first OEM carrier of the new Cup 2 Connect tyre, with a further 40 size options between 17  and 20 inches that suit over 180 different models across the performance car spectrum.