That time we gatecrashed Wembley in £1000 bangers – evo archive
How evo scored big when we ended up in Wembley Stadium during our (in)famous Grand Challenge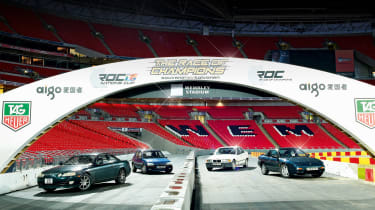 There is a good chance that if we'd bought our cars for £500 instead of £1000 (and it was suggested; mostly by Harry Metcalfe) then we would never have raced at Wembley. You see, the Grand Challenge sounds quite, well, grand. The Monkey Challenge might have been met with a little more scepticism from the people with the keys to the stadium. 
This was back in 2008 (evo 115) and was dreamed up as a way to show that you didn't need to spend a fortune to experience the thrill of driving. I think we convinced everyone…
The mighty machines purchased for the inaugural GC were a Peugeot 205 GTI 1.9, a BMW E36 325i, a Nissan 200SX and a Lexus Soarer. They weren't in the first flush of youth, so were safety checked (with points docked for repairs that were deemed essential) and then strapped to a rolling road to see how many horses had bolted since leaving the factory. And then we found ourselves in Wembley Stadium, where the pitch had been covered with metal and two layers of tarmac to create the Race of Champions circuit.
I think we had expected to be stopped in our tracks and told that we were having a laugh if we thought we were sullying the stadium with our scrap. But the gates kept opening, the barriers kept lifting and the high-vis vests continued to wave us through. I think Michèle Mouton, there doing a track inspection, might have arched an eyebrow, but even she didn't stop us. It was like having your name on a VIP list at a popular nightclub and being ushered inside with reverence by the bouncers despite wearing scuffed old trainers. That's how absurd it felt driving a J-reg Peugeot (albeit in rare Miami Blue) out into that most hallowed of grounds alongside an imported Lexus nicknamed Dogzilla.
Things got even more bizarre when Jethro Bovingdon, John Barker, Dickie Meaden and I were all shown into the away team changing room to get togged-up. Then David Coulthard (then still racing for Red Bull) was convinced by Harry to jump into a Fiat Panda 100HP that we had brought along to set a bogey time around the track. A Formula 1 driver in a Panda. Normally that would take months of PR toing and froing and probably not happen.
Even as the first race got underway I think there was a suspicion someone would run to find an official and exclaim, 'Some people are on the pitch! They think it's all about oversteer!' But race we did. Six times. I even crashed. And they put the floodlights on for the final.
Someone had brought a football and at halftime we had a kick about, even those of us with two left feet, just so we could say we'd played at Wembley.
More than an F1, F40, Zonda and Carrera GT all together in Wales, more than any of the eCoty tests, more than any 'proper' race, I think that afternoon in north London remains the most surreal experience any of us at evo has ever had.