Vauxhall Astra VXR - Fast Fleet
Ian Everleigh reflects on the Astra's cornering characteristics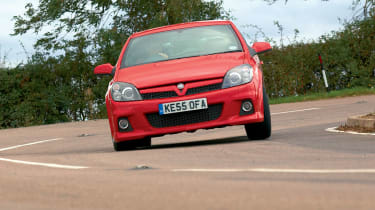 Cornering in the VXR can be a frustrating experience. The steering is nicely weighty and there's no shortage of feel through the wheel, it's just that much of the feedback suggests that the front end isn't biting into the tarmac as hard as you might like.
In reality, you can lean on the front tyres more than your instinct tells you, but while this is easy to put into practice on track, it can feel unnatural on the road, a bit too much like a leap of faith.
Interestingly, a drive in Thurlby Motors' 888 Astra CDTi (click here to read our review) revealed that a hot Astra need not be afflicted with this characteristic, although to be fair to the VXR, the 888 does have a significantly stiffer set-up.
To make matters worse for our Astra, the tread blocks on the original Contis are almost down to the wear indicators, and as we've already discovered, once the tread depth on the front tyres drops below the 4mm mark, tramlining becomes a real problem on less-than-perfect tarmac. Time for some new rubber, methinks.
Running Costs
| | |
| --- | --- |
| Date acquired | February 2006 |
| Total mileage | 24,380 |
| Costs this month | £0 |
| Mileage this month | 1434 |
| MPG this month | 32.0mpg |