Vauxhall Astra VXR - Fast Fleet
It's all tyre-talk with the Astra this month: 4 new ones, and the lack of a spare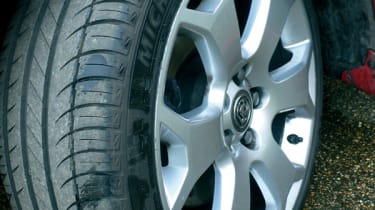 The Astra is wearing a set of new Michelin Pilot Exaltos this month, the original ContiSportContact 2s having come to the end of their useful life after an admirable 25,000 miles.
I've had previous good experience with Exaltos on a Clio 172 I owned a while back, so they seemed worth a shot in 225/40/18 size on the VXR. I'm not disappointed. Grip levels feel on a par with the Contis at their fittest, but there's now a more progressive loss of grip as the front edges into understeer. It's a welcome characteristic that makes KE55 both more relaxing and more fun to punt along a tricky B-road. Good stuff.
One thing that's not so good is the VXR's lack of a spare wheel. This was brought home to me shortly after having the Michelins fitted, when I found myself stood on a petrol station forecourt watching one of them drop from 32 to zero psi in 30 seconds flat.I'd been adjusting the pressures when the air-hose nozzle snagged on the thread around the top of the valve, causing it to split from the valve stem behind (which, on the VXR, is made from metal rather than more-forgiving rubber). The tyre sealant kit was clearly going to be no use here…
Thankfully, as it was the middle of the day, the ever-helpful Central Tyre of Wellingborough was able to come to the rescue (cheers, Matt), but had it happened at 10pm I'm sure it would have taken a lot longer than half an hour to get mobile again. Saving weight is all well and good, but as we discovered at eCoty 2006, there's a lot to be said for carrying a spare wheel.
Running Costs
| | |
| --- | --- |
| Date acquired | February 2006 |
| Total mileage | 27,085 |
| Costs this month | £516 (four tyres) |
| Mileage this month | 2,705 |
| MPG this month | 31.7mpg |