Vauxhall Corsa VXR Nurburgring Edition video: Vauxhall Corsa VXR Ring video
New Vauxhall Corsa VXR Nurburgring Edition takes to the famous track it's named after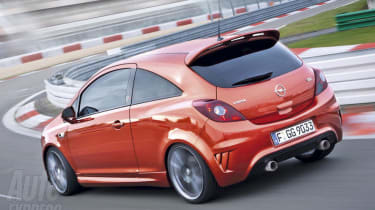 The new Vauxhall Corsa VXR Nurburgring Edition may look like innocent enough but it only takes a few laps of the Nordschleife to bring its racing pedigree out.
Developed just a stone's throw away at the neighbouring Opel Development Centre, this Corsa has a boosted 1.6-litre engine, upgraded turbo and new sports exhaust, and it now boasts over 200bhp, helping it take the fight to talented rivals in the shape of the Mini John Cooper Works and the Renaultsport Clio 200 Cup.
A mean bodykit and 'eagle-eye' headlights give the VXR a sportier look and handling has been improved by a revised chassis, plus all new suspension and brakes.
This video actually features the European version of the vehicle, the Opel Corsa OPC, but the VXR will be exactly the same as its continental sister, save for Vauxhall badging and steering wheel on the right side of the cockpit.
News and pictures of the Corsa VXR Nurburgring
Mega test: Corsa VXR v Clio 200 v Mini JCW v DS3-R v VW GTI