Vauxhall Insignia
Why Vauxhall's Insignia might handle rather well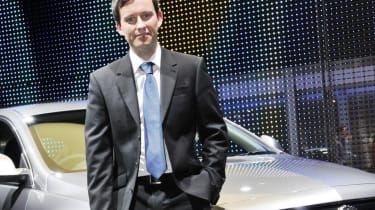 If the Lotus Evora was the biggest London Motor Show news for those of an evo persuasion, it's a fact that Vauxhall's new Insignia will touch more people's lives. Its Vectra predecessor, though, is not a loved car among those who love cars. That said, a mid-life makeover did result in handling and ride qualities rather better than any Vectra-knocker could ever have expected.
The transformation was enacted in the UK, at Vauxhall/Opel's engineering centre base at the Millbrook test track in Bedfordshire. That way, the Vectra could be tuned to suit UK roads with their bumps, ripples, steep cambers and varying-radius bends, all of which set our roads apart from many in mainland Europe (especially tidy Germany). But it was a salvage job on an existing chassis. For the Insignia, there was the chance to get everything right from the beginning.
Wayne Doyle is the Performance Integration Manager Vehicle Dynamics/RHD Cross Car Line. Despite those 'RHD' initials in that wordy title, Doyle is adamant that there is no longer different set-ups for the UK and continental Europe. 'We take input from different demanding environments,' he says, 'and develop suspension tuning which will work in all of them.'
What, then, is he looking for in a car for UK roads? 'There's more need in the UK for precision and agility because of the blind curves and radius changes. If the corner changes, you need to be able to correct that. For undulating roads you need firm body control, but you also need suppleness for rough surfaces.'
So far, so fairly obvious. How do you get the right mix? Doyle explains: 'If the damping is too supple at first, you'll get wheel patter and shake. The initial damping influences steering response and agility, too. If we can make it work on these roads, it can benefit everywhere else in Europe.'
How, then, does Doyle reconcile the public's obsession with huge wheels and ultra-low-profile tyres with his aims? 'Big wheels can mean more mass, and it's in the wrong place for ride quality. To get the right damping control with a big unsprung mass can lead to an abrupt feel in the ride.
'As for tyres, ideally we'd choose the best tyre size for the ride/handling compromise. Wider tyres can bring a gain in steering precision, but they are more sensitive to camber changes so they can tramline. That's because the contact patch is always changing, and the steering gets pulled around if the sidewalls are stiff. The 18in wheels and 45-profile tyres are a good balance for the Insignia.'
Vauxhall/Opel's new family car uses fully hydraulic power steering even though electric systems are working their way up the car-sizes. That's good news for steering feel. There's also the option of FlexRide, a system whose 'driver mode control' detects the 'dynamic driving index' and  alters the operating mode of the adaptive damping to take it one notch up or down the selected range if it senses a temporary change in driving style.
As is usual, the Sport setting also alters steering weight, sharpens the throttle response, loosens the ESP and, in an automatic, makes the transmission map more alert. All Insignias, though, whether with FlexRide or with the passive Comfort or Sport calibrations, have steering designed for precision without nervousness. And their chassis tuning is designed to hold no snares even with ESP switched out.
All-wheel drive is standard with a 2.8-litre turbo engine, optional with a 2.0 turbo, using a system similar to GM cousin Saab's. First press test drives are in September. That's when we'll discover just how far the Insignia has left the Vectra behind.