What is it?
The updated Vauxhall Insignia VXR SuperSport, with new styling, mildly tweaked dynamics and more technology. It also costs less, too, starting at £29,749 for a five-door hatchback. The Tourer estate version driven here costs £31,049.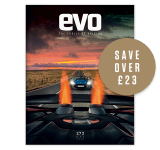 Subscribe to evo magazine
Subscribe today to have every issue of evo delivered straight to you. You'll SAVE 39% on the shop price, and get evo for its original cover price for a whole year!
Technical highlights?
Its 321bhp 2.8-litre biturbo V6 doesn't have the 155mph electronic limitation of some more prestigious German rivals such as the Audi S4 and BMW 335i, and is wrapped in a shape that is both slightly prettier than before and very slippery. So it runs through to a claimed 170mph, allowing Vauxhall to boast, somewhat disingenuously you might think for those who don't regularly frequent unrestricted autobahns, that it's the fastest car you can buy in the UK for under £30k.
As before, there's adaptive all-wheel drive with a nominal front/rear split that, in normal running, sends a whopping 90 per cent of the torque to the front wheels though this switches to a more balanced 60/40 if you press the 'VXR' ('OPC' on our Opel-badged test car) button on the steering wheel. Doing this also stiffens the dampers, adds weight to the steering and tilts the throttle map so dramatically towards top-of-the-travel sensitivity it's initially a little alarming.
Vauxhall says it has replaced or revised around 60 per cent of the components in the rear suspension, though the car's HiPerStruts which, it is claimed, prevent geometry changes during hard cornering, are unchanged from the previous model. But the ESP and adaptive damping software have been treated to some tweaking to reduce understeer.
The seats are great, the new infotainment system with its 8-inch touch sensitive screen and additional finger pad control far too sophisticated to go into here and the car is very nicely put together and finished.
What's it like to drive?
In many ways, the VXR SuperSport Tourer is a likeable thing – fast, refined, comfortable and a pretty superb high-speed motorway cruiser. As a car to bond with on what should be a wicked stretch of road, however - thoughtfully, Vauxhall provided one on the test route – it still falls short.
Revealingly, the hillclimb-spec stretch in question was wet and greasy, conditions that should have played to the all-drive VXR's strengths. But it was its undoing, its nose washing out on so many of the tighter turns at a far from breakneck pace there was no choice but to back right off. Engaging the VXR 60/40 torque split gave a slightly more neutral balance post (missed) apex under power but it all felt somewhat scrappy and not helped at all by the completely synthetic-feeling helm that refused to signal, in any way, the incipient front-end break away.
The six-speed manual transmission shift is punchy and slick but the long intermediate gearing slugs the 321lb ft of torque making the turbocharged V6 feel less muscular than it is. The muted engine note favours refinement over excitement, too. It may do 170mph, the Insignia VXR SuperSport, it's just a pity it couldn't be a bit more playful on the way.
How does it compare?
Its key rivals come at higher prices, the £39,020, 328bhp Audi S4 getting an twin-clutch paddleshift automatic gearbox as standard and the £37,885, 302bhp BMW 335i M Sport possessing rear-wheel drive and sharper dynamics. If you don't need the Insignia's pace then tougher rivals at a closer price point are the £30,640, 296bhp Audi S3 and the £30,570, 316bhp BMW M135i, the latter being one of the best all-round performance cars on sale.
Anything else I need to know?
The SuperSport is faster than the 431bhp 6.2-litre V8-engined VXR8, although possibly only because the latter is limited to 155mph. The SuperSport is still not quite as quick as the legendary Lotus Carlton, though, which could reach 176mph.
The rest of the Vauxhall Insignia range also gets a mid-life overhaul, with new engines – including a 168bhp 1.6-litre turbo petrol – the same interior polishing as the VXR and some of its chassis refinements, too. It's still not the sharpest car to drive in its class, but compared to the Ford Mondeo and VW Passat, it is the biggest seller.
Specifications
| | |
| --- | --- |
| Engine | V6, 2792cc, turbocharged |
| Max power | 321bhp @ 5250rpm |
| Max torque | 321lb ft @ 5250rpm |
| 0-60 | 6.1sec (claimed 0-62) |
| Top speed | 170mph (claimed) |