The Vauxhall Insignia GSi Grand Sport isn't normally the sort of car that gets people like us excited. Sure, it's actually better to drive than you'd credit, plus it's spacious, refined and well equipped, but ultimately it's a rep special in the mould of the Ford Mondeo, Skoda Superb and VW Passat. Yet when Vauxhall revealed it was reviving the GSi badge for a fast flagship version of the Insignia (the full name is Insignia Grand Sport, but we'll stick to Insignia for the sake of simplicity and sanity), we sat up and took notice.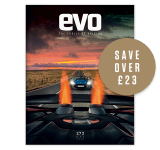 Subscribe to evo magazine
Subscribe today to have every issue of evo delivered straight to you. You'll SAVE 39% on the shop price, and get evo for its original cover price for a whole year!
Initial signs are promising, too. For starters, Vauxhall claims that the car can lap the Nurburgring 12 seconds faster than the old Insignia VXR, while mechanical upgrades include Brembo brakes, a 10mm lower ride height and a GKN torque vectoring four-wheel drive system. There's also a pair of 2.0-litre four-cylinder units to choose from – a 256bhp turbocharged petrol and a 207bhp twin-turbo diesel. It's the latter we drive here - Vauxhall doesn't have any petrols on its fleet because it reckons the BiTurbo will be the big seller. Perhaps the dieselgate scandal hasn't yet landed in Luton...
Still, at least the GSi looks the part, in a stealthy sort of way. There's a deeper front bumper complete with larger, chrome trimmed air intakes, some natty side skirts and a rear spoiler, while the huge 20-inch alloys are wrapped in Michelin's grippiest road tyres. Inside there are equally big clues to the car's sporting intent, including a pair of heavily bolstered and GSi emblazoned high-backed front seats, a flat bottom steering wheel and aluminium-finished pedals. In all other respects it's standard Insignia, which means the interior is spacious, well built and packed with standard kit.
Technical highlights
Arguably the most intriguing aspect of the Insignia is its four-wheel-drive transmission. Essentially it's the same basic GKN setup already seen on the Ford Focus RS, and while it's not as aggressively calibrated in the Vauxhall, it still delivers similar torque vectoring abilities. In practice, the system can shuffle torque across the rear axle, overdriving the outside rear wheel to help point the car's nose into the apex of a corner and therefore reduce understeer. Vauxhall also makes big play of the 'yaw damping', which essentially is torque vectoring in reverse. By monitoring steering angle and throttle position it can control the way the diff locks, creating greater stability (less yaw) in normal (Tour) mode and more agility when the Sport setting is engaged.
Elsewhere, engineers have tweaked the GSi's suspension, dropping the ride height by 10mm and adding stiffer spring rates (by between 35 and 40 percent, depending on whether it's a hatch or an estate model). Also tweaked is the mapping for both the standard FlexRide adaptive dampers and the electronic stability control – there's now a 'Competition' setting that gives you greater leeway before the systems intervene. 
Finally, the standard 20-inch alloys are wrapped in high performance Michelin Pilot Sport 4 S tyres, while upgraded Brembo calipers clamp larger discs (345mm at the front, 315mm at the rear).
Engine, transmission and 0-62mph time
The Insignia GSi BiTurbo gets a tweaked version of the familiar 2.0-litre diesel already used in cooking models. Featuring a pair of sequentially mounted turbochargers, each utlilising variable geometry vanes, the four-cylinder unit delivers a respectable 207bhp and a thumping 354lb ft of torque at just 1500rpm. Driving all four-wheels through an eight-speed automatic gearbox (there is on manual option) it will crack 0-62mph in just 7.3 seconds and will continue accelerating until it hits 145mph. By contrast, the petrol versions vital statistics run to 6.9 seconds and 155mph for the same benchmarks.
On the move, however, the GSi feels brisk rather than outright fast. With so much twist available at such low revs there's little point in extending the motor, which is much quieter when warmed through but still fairly agricultural sounding. In combination with the reasonably smooth standard eight-speed auto it allows you to make effortless and unobtrusive progress. 
That said, it's probably best to avoid the engine's Sport setting. Yes it sharpens the throttle fractionally, but it also uses the car's stereo to treat the unit to some electronic augmentation, which results in a soundtrack that wouldn't be out of place on the sort of 1980s era racing simulators that were a staple of the ZX Spectrum.
What's it like to drive?
Ultimately, the Insignia is a car that allows you to make easy progress. It's simply a slightly shaper version of the standard model, rather than a serious driver's car. There's a choice of Tour and Sport modes, and in the former the Insignia driving experience will be familiar to anyone who's driven lesser versions in the line-up. The adaptive dampers serve-up a soft ride, the transmission smoothly shifts between ratios and the lifeless steering is light and fairly precise. It's fairly uninspiring, but as a quiet and comfortable outside lane express that feels capably agile when the going gets twisty the Vauxhall does a good job. 
Yet it's when you hit the Sport button that the Insignia struggles because, well, it doesn't feel that much different to Tour. There's some extra firmness added to the dampers, but not much; so while the Insignia's body movements are well controlled there's a fair amount of roll. There's also some extra sharpness added to the throttle and a touch more weight for the steering. That said, the electrically assisted setup is still too light and offers zero feedback. This isn't such a problem in the dry where you can trust the sticky Michelins will grip, but in greasy or wet conditions the breakdown in communication makes it difficult to commit, sapping confidence.
Still, there are positives. Once turned in the Vauxhall grips hard, while the four-wheel drive system subtly overdrives the outside rear wheel, pivoting the car about its axis and pointing the nose towards the apex. There's also the very subtlest hint of power oversteer on the exit of a bend. It's not as wild as a Focus RS, but it provides the Vauxhall with greater agility helping it cover ground more effectively. 
Price and rivals
Prices start at £32,975 for the Insignia Grand Sport GSi BiTurbo tested here, while the 256bhp petrol will set you back £33,375. If you want more space, then a Sports Tourer estate version of each is available for an extra £1500. Now, while that's a fair chunk of cash for a large Vauxhall, the Insignia does at least come loaded with standard kit, including sat-nav, LED matrix lights (which are car was fitted with, strangely), keyless entry, leather trim, heated seats front and rear, head-up display and a whole host of semi autonomous driver aids. Also included is Vauxhall's neat OnStar system, which includes 24 hour access to a concierge service and a 4G wi-fi hotspot, if that's the sort of thing that gets you excited.
Still, even the generous list of equipment can't distract from the fact there are some seriously talented rivals out there, including the Skoda Superb 4X4. Available in 276bhp petrol and 187bhp diesel guises the Czech is more engaging to drive and equally well equipped, while prices start at £32,370. The VW Arteon looks sharper than the Vauxhall and is more refined, but in sporty R-Line trim it costs more to buy, with the 276bhp petrol (the same as in the Skoda, but mated to a seven rather than six-speed DSG) costs £39,630, while the 236bhp 2.0-litre BiTDI is a wallet-crippling £40,305. That said, it feels far more upmarket inside and out, plus boasts a chassis that's more involving than the Insignia's. As an outside bet, there's the handsome and capable Kia Stinger, which is priced at £31,995 for the 240bhp GT-Line petrol and £33,895 for the similarly specified 194bhp 2.0-litre CRDi diesel. Both feature four-wheel drive, an eight-speed auto and a capable chassis that rewards a bit of hustling.
Ultimately, while the Grand Sport is a capable, quick, composed and spacious machine, it's not a very exciting one. Its biggest problem is that it doesn't feel that much different to lesser versions, which deliver many of the same qualities in much cheaper packages.