Vauxhall Corsa GSi prices announced – to start at £19k
Priced the same as the new Fiesta ST, the Corsa GSi has a tough battle ahead with its warm supermini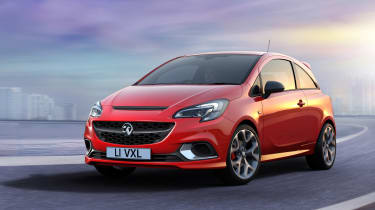 Vauxhall has just announced local pricing for its new Corsa GSi. More of a semi-skimmed supermini than full-fat hot hatch, the GSi should rival cars like the Fiesta ST-Line and Suzuki Swift Sport, but priced from £18,995 will cost exactly the same as the Fiesta ST.
The new GSi is powered by a 1.4-litre turbocharged four-cylinder engine producing 148bhp – around 50bhp down on the Fiesta ST. The torque figure is plump enough at 162lb ft, but when applied on the road, it's hard to ignore the Corsa's near 9.0sec 0-62mph time, calling into question its position in the marketplace.
> Ford Fiesta ST-Line 2017 review 
Standard equipment on the Corsa is strong, though, featuring VXR-lite styling and an upgraded interior, but you'll need to spend an extra £1800 to get your GSi fully kitted out with the optional GSi Plus pack. Comprising Recaro seats, bi-xenon headlights and 18-inch wheels, these additions can also be had as options on the Fiesta ST, actually undercutting the Corsa's price in the process.
Suzuki went through a similar conundrum when pricing was announced for the Swift Sport, a car that by all accounts we should adore at evo thanks to its bantamweight body and torque-filled engine, but like the Vauxhall, was brought to market at just too high a price (at £17,999, incidentally).
The Corsa looks to be heading down the same path, raising the question of whether Ford has caught its rivals off guard with its new ST, or whether Vauxhall has put too much faith in the historic GSi brand. Available from September, the new Corsa GSi has a tough battle ahead convincing potential buyers out of the new Fiesta ST.