Here's a bit of motoring trivia for you. What did the CC stand for in VW Passat CC? According to the German firm's marketing material that accompanied the 2008 launch it was an acronym for the slightly middle-aged sounding Comfort Coupe. These are hardly the sort words that will get the blood pumping when you're in the mood for an uplifting drive, and so it proved. The Passat looked good and was cut above the humble saloon it was based on, but a stint behind the wheel was the motoring equivalent of a nice relaxing slouch in front of an open fire.
So for the CC's replacement VW has started from scratch, which includes scrapping the old car's name. So it's goodbye CC and hello Arteon. Promising to be even more upmarket than its predecessor, it's been designed to steal sales from such premium paragons as the Audi  A5 and BMW 4 Series Gran Coupe. You can't fault its ambition.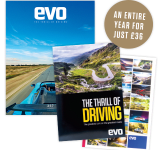 Subscribe to evo magazine
evo is 21 and to celebrate, we're returning to 1998 prices! Subscribe now to SAVE 39% on the shop price and get evo for its original cover price of £3.00 an issue, plus get a FREE gift worth £25!
As with a vast number of VW Group products, the Arteon is based on the firm's scalable MQB architecture, which means a transverse front engine and either front or four-wheel drive. The 280 R-Line tested here gets the latter, which features the latest Haldex controlled centre differential and is mated to VW's seven-speed twin-clutch DSG gearbox. Under the bonnet is a 276bhp version of the tried and tested EA888 engine that sees service in everything from the Polo GTI to the Audi S3.
The Arteon certainly looks the part, with more than a hint of Audi A5 Sportback in its sleek profile. Our flagship R-Line model is given extra kerb appeal courtesy of its reprofiled bumpers, trapezoidal tailpipes and 19-inch alloy wheels. Inside the, the Arteon feels like very glitzy Passat or Golf. It can't quite match the likes of BMW, Mercedes or Audi for cabin ambience, but the VW's interior is slickly styled, well equipped and solidly built from decent materials. It's big too, with occupants in the get getting plenty of space to lounge around.
> BMW 4-series Gran Coupe review
Technical highlights
While the Arteon looks cutting edge on the outside, underneath its low slung bodywork is VW's tried and tested MQB platform. Designed to be scalable to cover a wide variety of models, it also uses plenty of high strength steels that deliver both excellent rigidity and lower weight. 
Other hand-me-down parts include the engine, which is the familiar EA888, which in this application delivers the same power and torque as in the Skoda Superb 280. However, unlike its Czech mate, which has to make do with a six-speed DSG gearbox, the Arteon gets the firm's latest seven-speed unit. Designed to offer improved performance and economy, plus quicker and smoother shifts, if features a seventh gear that's effectively an overdrive. Also included is the brand's 4MOTION all-wheel drive, which features the latest fifth generation Haldex controlled differential that reacts faster and can deliver more torque to the rear axle in extreme conditions.
Suspension is by struts at the front and a multilink axle at the rear, while adaptive dampers allow drivers to choose from Comfort, Normal and Sport settings. These modes also control the shift strategy of the gearbox, throttle response and steering weight. As you'd expect, you can also mix and match your favourite settings using the Individual mode.
Other technical highlights include the option of Matrix LED headlamps, a TFT instrument cluster, head-up display and gesture controlled infotainment (although this part of the functionality is limited to swiping through the major sub menus). Also included is the latest suite of safety systems, including lane departure warning, adaptive cruise control, pedestrian detection and self parking.
Engine, transmission and 0-62mph
If you've driven a VW with the EA888 turbocharged 2.0-litre four-cylinder, then certain aspects of the Arteon's driving experience will be familiar. Improved sound insulation means the unit's more refined than in, say, a Skoda Superb, but it has the same sense of elastic urge and a keenness to rev. With a healthy 258lb ft of torque at just 1700rpm the VW pulls strongly and smoothly from low revs, before spinning happily around to its 6500rpm redline where it's pumping out 276bhp. 
Decent noise suppression means the Arteon saps your sense of speed a little, but there's no doubt it's fast, with VW claiming a launch control assisted 0-62mph time of 5.6 seconds. Yet it's the effortless mid-range urge that marks out the performance, the VW punching past slower traffic with the sort of vim normally reserved for hot hatches.
The seven-speed DSG twin-clutch gearbox plays its part here, quickly and unobtrusively shuffling through the ratios to deliver a near seamless surge of acceleration. Selecting Sport mode sharpens the throttle and makes the transmission respond more sharply to your right foot, but for total control it's best to slot the gearlever to the left and shift yourself. The plasticky wheel mounted paddles are small and feel cheap, but the gearbox responds crisply to your instructions.
What's it like to drive?
Like virtually all MQB VW models, the Arteon is polished and poised on the road. It's not the most engaging machine, but it can cover ground quickly, with great composure and just enough feedback to make things more interesting than you'd expect.
Leave the car to its own devices in Comfort or Normal and it's a comfortable and refined choice. The passive dampers sooth away bumps and broken tarmac, with only sharp ridges and potholes causing a muted thud to reverberate through the cabin – although this shortcoming is largely down to the large 19-inch alloys.
The rest of the car is equally easy-going, with the familiar slick and well-weighted control weights, plus and electrically assisted steering set-up that's light and accurate.
Toggle through to Sport and there's a noticeable change in the car's character, with the adaptive dampers tensing up and giving the Arteon a more hunkered feel on the road. Body control is impressive, with the suspension doing a good job of keeping the large VW on an even keel, even through quick direction changes. VW's XDS 'differential' (essentially a torque vectoring system) delivers surprisingly strong front end grip, allowing you to lean on the Arteon harder than you'd expect on corner entry, while the four-wheel drive delivers slingshot acceleration on the exit of the bend. The Sport setting adds heft to the precise and just quick enough steering, while there's just enough feedback to allow you a reasonably clear picture of what's going on. Lifting on the throttle has the VW tightening its line, but it gets no more expressive than that. Ultimately, the Arteon isn't a true driver's machine, but it can cover ground quickly, efficiently and with remarkable composure.
Price and rivals
At first glance the flagship Arteon R-Line's blend of comfort, style and performance doesn't come cheap at £39,630. That's similar to the 430i Gran Coupe M Sport (£39,560 – although there's no xDrive option with this engine) and only a little less than the admittedly less powerful Audi A5 Sportback 2.0TFSI quattro S line (£42,895). The BMW is more engaging to drive than both, while for many the Audi's premium appeal will be worth the increased price of admission. 
If you like the idea of the Arteon and aren't shackled by brand snobbery and status anxiety then there is an answer in the form of the Skoda Superb 280. While it's not quite as refined and dynamically polished as the VW, it's more or less mechanically identical (it has a six-speed DSG rather than a seven-speed), is even more spacious and just as well equipped, but prices start at only £33,400. Oh, and there's also an estate version available.