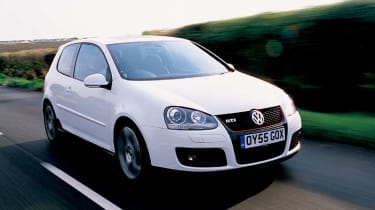 It was well and truly autumnal on my first evening with OY55 GOX; dark early, the courtyard outside the office lashed with wind and rain. I blipped the key-fob from the doorway of the office and, across the car park, the Xenons blinked on like some reassuring lighthouse in a storm.
Sheltering beneath a copy of Top Gear, I dashed across the gravel to the driver's door, shutting the cold, damp miserableness behind me as I climbed in. Inside, all was serene, the trademark blue dials glowing, the seat as well-tailored as a suit from Saville Row, and all the cares of the world shut outside. I'll confess I was rather relieved not to be in the Caterham that night...
The computer showed that our Candy White GTI had arrived with just 75 miles on the clock. That's confidence for you. No press office running-in, no time as a demonstrator to let any niggles work their way to the surface, just a healthy reliance on finest Wolfsburg build quality. The downside to this would be a few frustrating weeks of half-throttle, sub-3000rpm running-in, but eager to secure the Golf as my own (I'd been referring to it as 'My Golf' for some months to try and lull everyone else into letting me run it), I stepped selflessly up to the mark. We've covered a smidge over 1000 miles in two weeks so, as I write, the purgatory is almost over and that fantastically strong engine will be allowed to run unfettered.
The optional (£445) 18in Monza II wheels have already shown their worth however, adding an even sharper edge to the handling without proving detrimental to the ride. They also look fantastic, with a certain air of Sant' Agata's finest about them. Kerbs, however, are undoubtedly to be avoided.
Niggles so far? Well the gearbox isn't the slickest tool in the shed and the brakes are a touch on the grabby side, but both may get better with a few more miles and I'd still have a less-than-perfect manual over the slightly anodyne DSG. One thing that's unlikely to change, however, is the diesel-like rattle on start-up - hardly an inspirational beginning to any journey. As for the colour, or lack of it, opinion's divided. I like it for its stand-out-from-the-crowd, spot-it-in-a-car-park, lose-it-in-a-snowstorm individuality, but some people think it looks a bit eighties, like socks of the same hue. I suspect the crunch will come when the roads become truly mucky and the jet wash becomes my new best friend. Perhaps if I tell the rest of the office how much cleaning my Golf takes, they won't be so keen to filch the keys to it. It's worth a try.
Running Costs
| | |
| --- | --- |
| Date acquired | September 2005 |
| Total mileage | 1136 |
| Costs this month | £0 |
| Mileage this month | 1061 |
| MPG this month | 33mpg |