Volkswagen Golf R32
Our R32's tyred out, so on went a set of Goodyear Eagles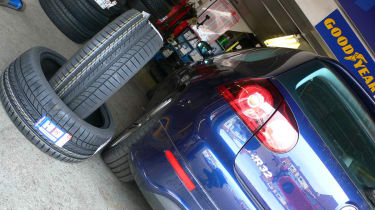 The R32 finally got some new tyres this month. As I mentioned last time, the original Continental SportContact 2s were looking pretty tired quite some time ago, but I wanted to wait for the boys to return from our tyre test (evo 110) before deciding what rubber to go for next.
It wasn't long after the results were in that the Golf was being fitted with a set of the test-winning Goodyear Eagle F1 Asymmetrics. HiQ of Northampton were charged with the task, and they turned the car around in under an hour for the not too unreasonable sum of £133 per corner. Not exactly cheap, either, but then what tyres are in the R32's 225/40 x 18 fitment?
The first week or so on the Eagles was spent scrubbing away the surface sheen that was making the R32 feel like an ice-racer on Ditch Master remoulds. However, over the last week I've started to lean on them more and more, tentatively exploring their limits.
In the wet they feel excellent, but on dry tarmac they seem to be struggling to generate the tenacious grip of the Contis. Attacking the same road that the R32 carved along effortlessly a few weeks ago is now much more of a challenge, and the flickering traction control light says all is not well down at the surface.
Hopefully things will improve over the coming weeks as the Goodyears bed-in, but until then, if you want to go quick in the dry in an R32, the Neil Carey Tyre Test 2007 recommends you try a set of near-slick Continentals.
Running Costs
| | |
| --- | --- |
| Date acquired | November 2006 |
| Total mileage | 15,785 |
| Costs this month | £532 (tyres) |
| Mileage this month | 1553 |
| MPG this month | 26.5 |