Volkswagen Golf R32
After a brief scrub-in period, new tyres have restored the Volkswagen's handling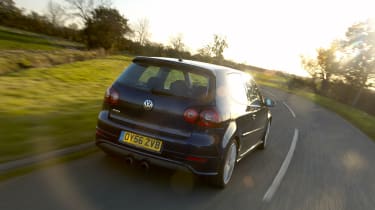 Last month I mentioned my disappointment with the R32's new tyres. As they won our recent tyre test, choosing Goodyear Eagles F1s seemed like a no-brainer, but the first couple of weeks with them proved a little difficult. However, I'm pleased to report that now all the 'new tyre sheen' has been scrubbed off, they're far more impressive.
One of the R32's strongest points has always been the speed it can carry along a tricky, unfamiliar road. The poise of the chassis coupled with that all-wheel-drive traction draws you into attacking each corner a little harder than the last, until finally a lack of bravery or front-end grip helps common sense prevail.
On the new Goodyears, however, you don't have to think about the next corner anything like as much. Instead you just press on, often with no lifting and no braking, just one constant, alarming high speed.
I look forward to seeing what the new tyres make of the upcoming wintery roads, and maybe, if I'm lucky, some wintery track time. So if you see the R32 on a trackday soon, don't try to outbrake it – I probably won't be braking at all!
Running Costs
| | |
| --- | --- |
| Date acquired | November 2006 |
| Total mileage | 17,392 |
| Costs this month | £0 |
| Mileage this month | 1607 |
| MPG this month | 26.2 |