Volkswagen Golf R32
David Vivian is obliged to drive the VW Golf R32 - and it's a bit of a shock after his Mercedes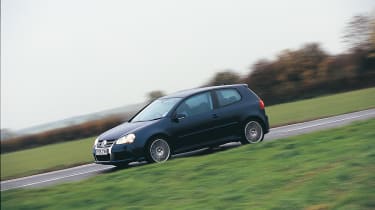 Imagine, if you will, a large, freshly blown soap bubble – all glistening gossamer tension and swirling rainbow reflections – touching down on the floor. Now try to grasp the infinitesimal amount of pressure you would need to compress that bubble with the sole of your shoe without actually bursting it. And reduce that by a factor of a thousand. Now you're getting close – only close, mind you – to being able to appreciate just how little force you need to apply to our DSG-transmissioned R32's throttle when pulling away from rest if you're to avoid the impression you've been shunted in the chuff by a 13-year-old joyrider in a Lamborghini Murciélago LP640.
It is possible (just) to merge into a stream of traffic from a T-junction without scaring the life out of your passenger and other road users, but only if you enter a trance-like state that affords you preternaturally precise control of your right foot. And you need to be absolutely certain that you're not going to sneeze during the manoeuvre.
All right, I'm exaggerating. And, yes, I've probably been spoiled by the unerringly slick, swift and smooth performance of the conventional seven-speed auto in my regular Mercedes CLS 350 CGI long-term steer. But, despite having read Neil's entirely justified gripes in print, I just didn't expect the knife-edge-nervy chuntering-around-town side of designer Carey's R32 to be such a pain in the backside.
It's a great shame because, in almost every other respect, it's a hugely capable and likeable car. Freed from its urban shenanigans, the DSG 'box performs like a dream on the open road, delivering a level of driver satisfaction my Merc can't match. The R32 is an uncannily refined motorway cruiser, too. The only real downside, apart from the transmission, is a ride that never lets you forget how firm it is. That said, the Golf has stood in for the CLS heroically.
Running Costs
| | |
| --- | --- |
| Date acquired | November 2006 |
| Total mileage | 9,072 |
| Costs this month | £0 |
| Mileage this month | 685 |
| MPG this month | 24.1mpg |