Volkswagen Passat R36
Volkswagen's first ever hot Passat, the R36, is now on sale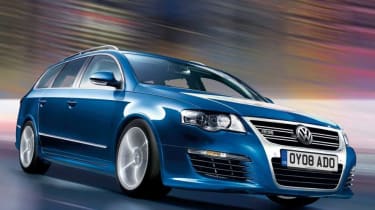 It comes hot on the heels of the Touareg R50 and the Golf R32 – a car that evo rather liked as a long-termer.
Much like the its smaller brother, the R36 gets a V6 engine – only this one's a larger 3.6-litre. It gives the Passat a healthy 296bhp mated to 258lb ft of torque. It's enough to shove the saloon from rest to 62mph in 5.6sec with the slightly lardier estate taking an extra 0.2sec. Maximum speed is limited to 155mph.
The car gets VW's six-speed DSG gearbox and 4MOTION four-wheel drive to help put down the big dose of power from the V6.
As well as the engine, transmission and sneaky R36 badges, you'll be able to decipher the top-end Passat from regular models by its 20mm lower ride height, beefed-up bumpers, blue brake calipers and twin rear tailpipes. The interior gets the usual sport edition type stuff – aluminium trim, alloy pedals and 'R' dials.
The saloon costs £30,990 and the estate £32,150. The same engine and transmission set up is available in the more subtly stylish Passat CC, without any R36 raciness on the outside, for £31,120.