Volvo C30 is go!
217bhp range-topper targets GTI and 1-series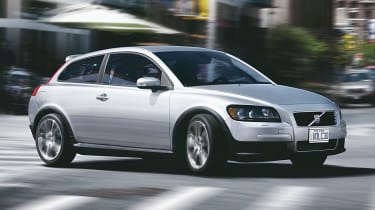 With an eye on the BMW 1-series and VW Golf GTI, Volvo will launch the C30 at the Paris motor show in September, complete with a range-topping 217bhp T5 derivative. A premium hatchback and strictly a four-seater, the C30 is the car with which Volvo hopes to both increase its volume sales and improve its image.
More of a sportwagen in the style of the old Volvo ES1800 of the early '70s than a regular hatchback, the C30 in five-cylinder turbocharged T5 guise should have the straight-line performance to tackle its prestige rivals; whether it has the overall dynamic prowess to challenge them is another matter, particularly as its front end set-up is derived from that of the under-achieving S40.
Base engine of the line-up is a 99bhp 1.6-litre four, followed by a 108bhp 1.6-litre diesel; sitting beneath the T5 in the range is the D5 with a five-pot turbodiesel producing 180bhp.
Although Volvo talks of practicality in its press information, it obviously believes that the top end of the hatch market values that quality less highly than style, which is why the interior is so bold and has four individual seats rather than a split-folding rear bench.
It's rumoured that prices will start at around £15,000.