Fiat 500 Abarth buying guide - Fiat 500 Abarth specification and costs
How much to pay for a Fiat 500 Abarth and how much it'll cost you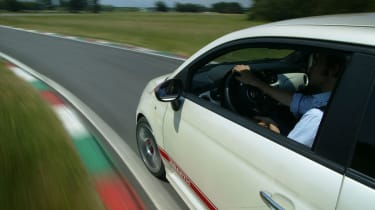 How much to pay
The Fiat 500 Abarth first appeared in 2009, for just under £14,000. Fast-forward five years and pricing has dropped to about half that for the earliest models, which is hardly colossal depreciation and illustrates the appeal these vehicles have new or used.
We found a handful of cars around the £7000 mark, with relatively low mileage that belies its city car origins. The oldest cars seem to have covered around 70,000 miles on average, while some 2009 models still haven't broken the 50,000 mile mark. There's quite some specification variety at this price point too, with various colours and alloy wheel options available.
Essesse models don't seem to command much more than their less powerful counterparts, with pricing starting from around £8000.
Abarth convertibles are also easy to find at sensible prices - we found a couple under the £10,000 mark. 595s are still fairly new (the first versions appeared in 2012), and as such are still hovering around £14,000.
Specification
| | |
| --- | --- |
| Engine | In-line 4-cyl, 1368cc, turbocharged |
| Power | 133bhp @ 5000rpm |
| Torque | 152lb ft @ 3000rpm |
| Transmission | Five-speed manual, front wheel drive |
| Tyres | 195/45 R16 |
| Weight (kerb) | 1035kg |
| Power-to-weight | 131bhp/ton |
| 0-62mph (claimed) | 7.9sec |
| Top speed (claimed) | 128mph |
| Price when new | £13,600 (2009) |
Parts Prices
(Supplied by NJS Motor Vehicle Services. Tyre prices from blackcircles.com.All prices include VAT at 20 per cent)Tyres £88.99 each (Pirelli P Zero Nero, fitted)Brake pads (front set) £78.12Brake discs (front pair) £149.18Clutch kit £199.46Oil filter £15.31Air filter (non-Esseesse) £26.38Exhaust system, cat-back, OE £545.20Catalyst, OE £964.13
Servicing
(Prices supplied by NJS, using Fiat Selenia oil) 9000-mile oil-change service £112.8018,000-mile service £270.0036,000-mile service, including brake fluid, 
air filter and pollen filter £330.00Cambelt change £218.40